From stacks of waffles and pancakes to eggs and parfaits, these gluten-free brunch recipes will make any special occasion or weekend get-together easy and delicious.
Brunch season is here. With Easter, Mother's Day, graduations, bridal showers and baby showers all on the horizon, spring is the season for brunching; and that means plates overflowing with brunch favorites like waffles, pancakes, frittata and more. Whether you're celebrating a holiday, a birthday or just an ordinary Sunday, there's something extra special about savoring a leisurely meal with friends and family.
I've rounded up 15 of my favorite gluten-free brunch recipes that are special enough for a holiday celebration or a casual weekend get-together. You'll find both savory and sweet brunch ideas that accommodate a variety of special diets but don't skimp on flavor. Want easy pancakes? I've got them. Delicious egg dishes? You'll find them here. Pretty parfaits? You bet! Just pick a few of your favorites and brunch will be a breeze.
It's hard to beat homemade waffles for breakfast. Light and fluffy with a toasty golden color, a batch of fresh waffles hot off the iron is always a real treat, especially when they're as easy to make as these.
These flourless almond butter waffles are unbelievably light and crispy at the edges, with a soft, fluffy interior. Serve them with a drizzle of chocolate sauce for an extra indulgent treat.
These classic American style silver dollar paleo pancakes are lightly golden on the outside and soft and tender on the inside. Best of all the batter is made easily in the blender!
Prefer not to stand over the stove flipping pancakes? An oven baked pancake makes for an easy breakfast or brunch, just blend and bake!
These cinnamon muffins have a gooey cinnamon swirl studded with bits of chopped walnuts which makes them a cross between muffins and cinnamon rolls.
Fluffy, tender and loaded with chocolate these muffins are a favorite across all ages and a welcome treat any time of day.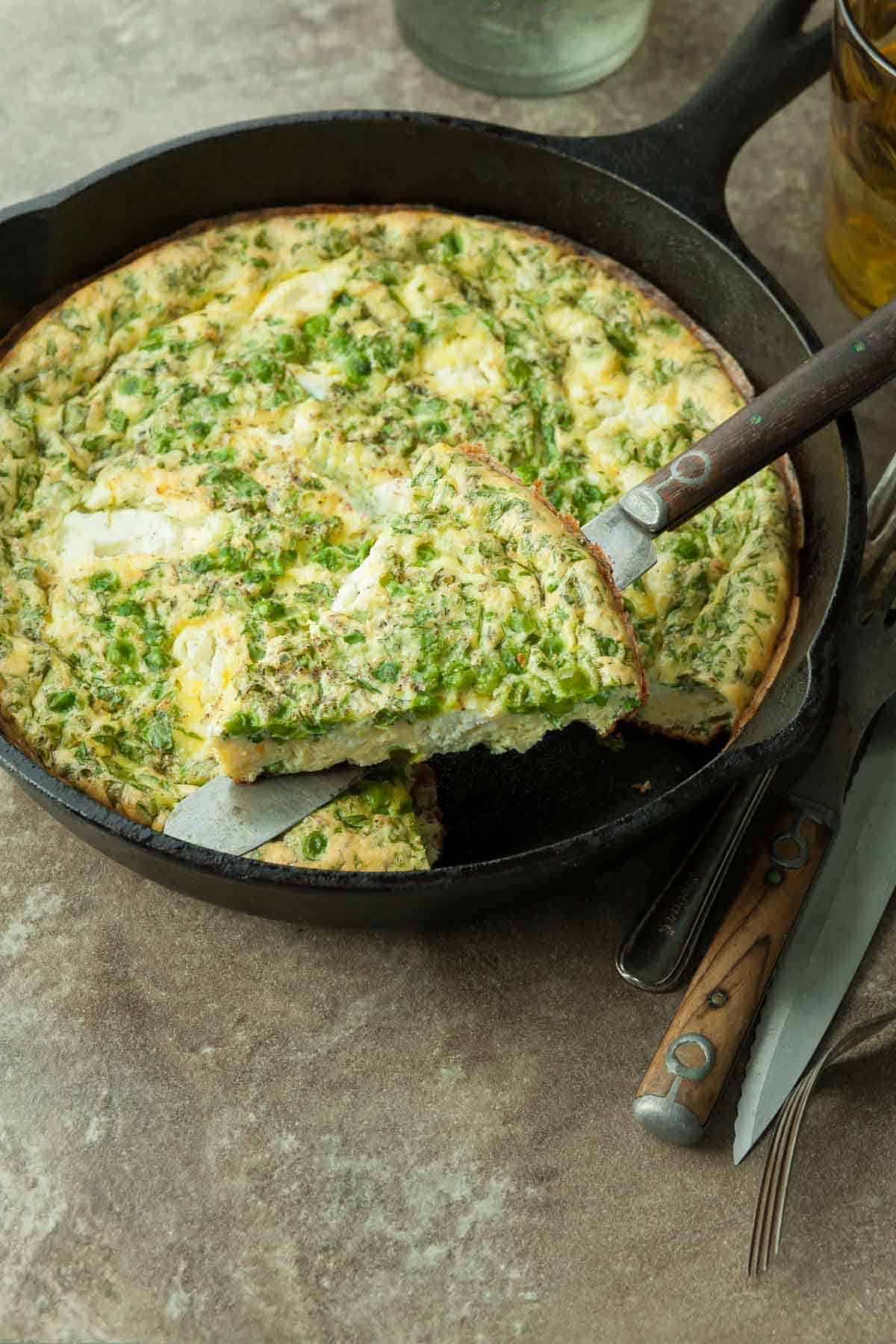 This light and fluffy baked frittata features peas and fresh herbs along with tangy goat cheese for a spring-inspired flavor that's perfect for brunch.
No need to hover over the stove to make individual omelets. An oven baked omelet made with asparagus and pesto makes for an easy brunch option.
Inspired by the classic tart from the south of France called "tourte de blettes" this Swiss chard tart features a rich creamy custard filled with silky ribbons of chard baked in a delicate almond flour pastry crust much like a quiche.
Portobello mushrooms stand in for English muffins in this gluten-free version of eggs benedict featuring roasted asparagus and a creamy goat cheese sauce.
Fruit and yogurt is always a winning combination but add a layer of tart lemon cream and a crumbly shortbread topping to the mix and you have yourself an elegant ensemble that tastes as good as it looks.
These easy cheesecake parfaits are entirely dairy-free, egg-free and refined sugar-free and can be made ahead of time and kept in the fridge until you are ready to serve them.
Set out a batch of crisp and crunchy homemade granola along with some yogurt and fruit; and let your guests serve themselves.
Slice up a loaf of this fruit and nut bread and serve it with some butter and jam alongside for a delicious and easy addition to any brunch buffet.
This easy to make gluten-free blueberry coffee cake is bursting with berries and topped with a crumbly almond streusel.
Happy Brunching!
Sylvie Shirazi is the recipe developer and food photographer behind Gourmande in the Kitchen. For the last 10 years she's been making eating more healthfully easy and accessible with gluten-free, grain-free, paleo and vegan recipes that are free from processed ingredients.