Packed with creamy goat cheese, peas and fresh herbs, this spring-inspired goat cheese frittata is a simple and satisfying one-skillet meal.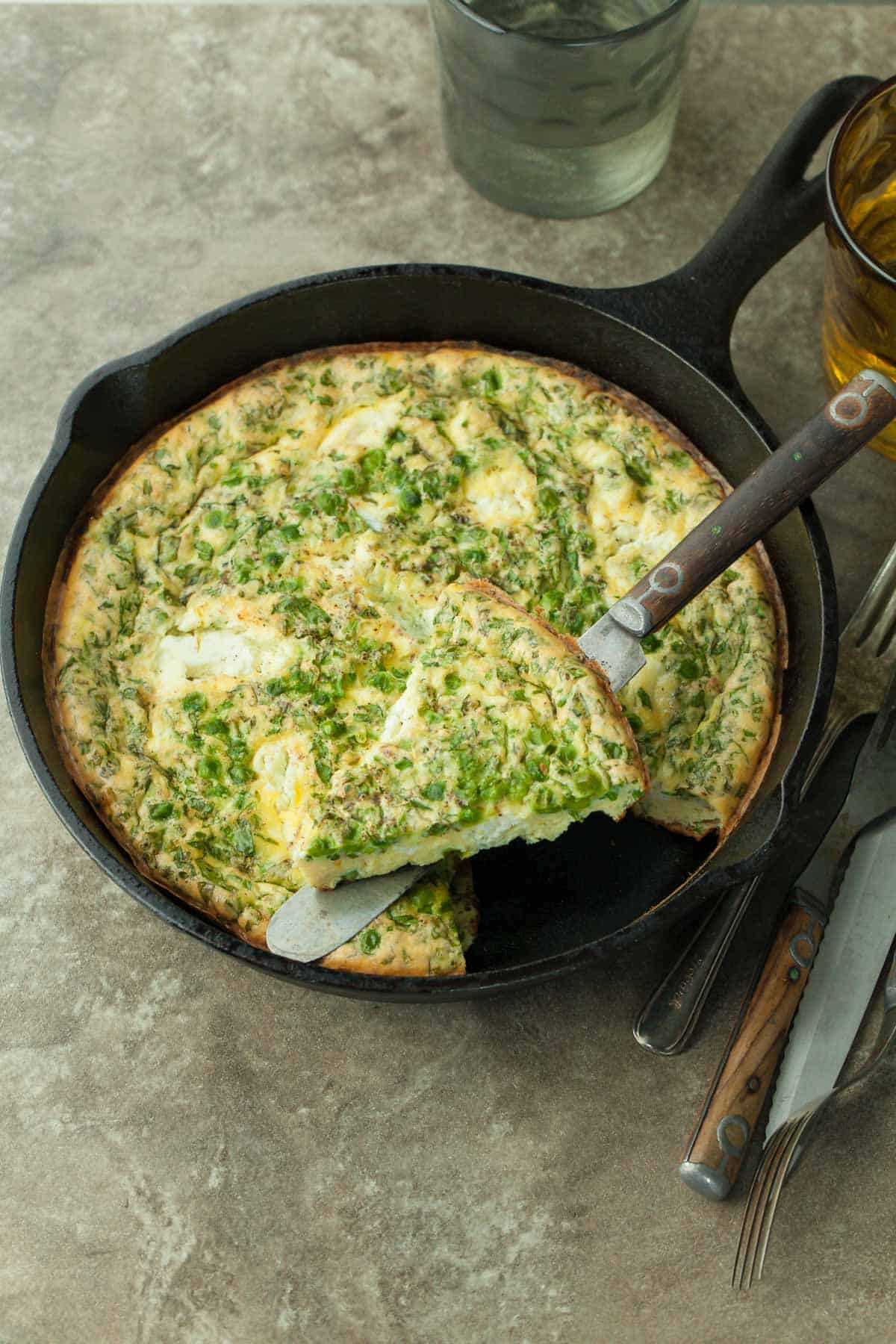 There's nothing better than a recipe that works for breakfast, lunch and dinner and is easy to make to boot! This goat cheese frittata is just that kind of recipe; it's one of the easiest egg dishes to make and is delicious served any time of day.
The best thing about frittatas is how adaptable they are; you can pack them with all kinds of fillings or just let a few choice ingredients shine. With just a little bit of whisking and chopping you can have a frittata on the table in about 30 minutes. It's really quite easy.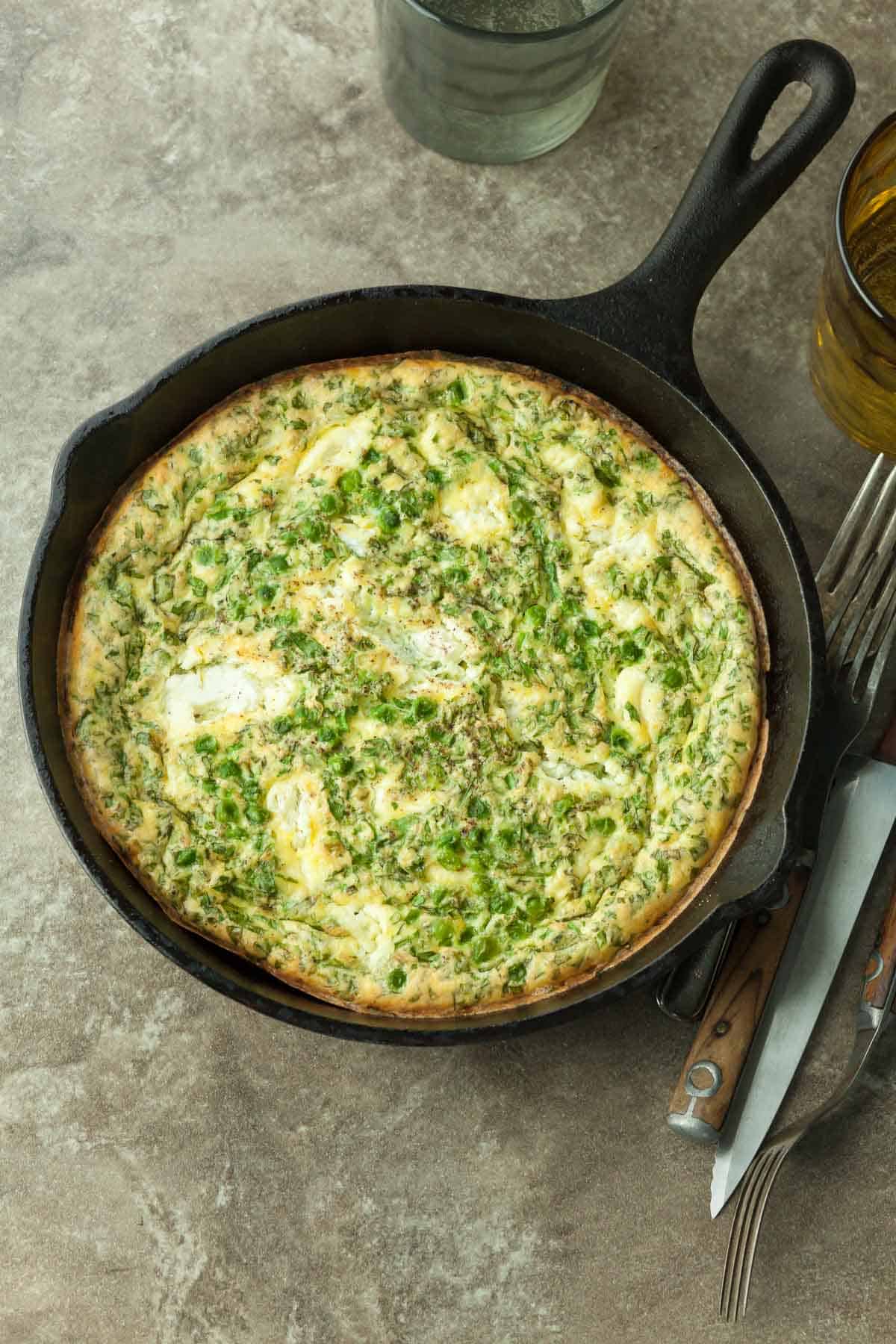 What's the difference between a frittata and a quiche?
A lot of people will say that a frittata is just a quiche without a crust, but that isn't quite all there is to it. While a quiche is indeed baked in a crust the proportions of its filling are different than that of a frittata. Quiches tend to have a higher cream to egg ratio than frittatas making them more custard-like when baked. Frittatas however have more eggs and end up fluffier than a quiche.
Quiches are also usually baked entirely in the oven while traditionally frittatas are started on the stovetop then finished in the oven. That is unless you're making a baked frittata in which case they are both baked in the oven and the distinction get a bit muddier. So basically think of a quiche as a tart with a custard filling and a frittata as a thick omelette you slice to serve.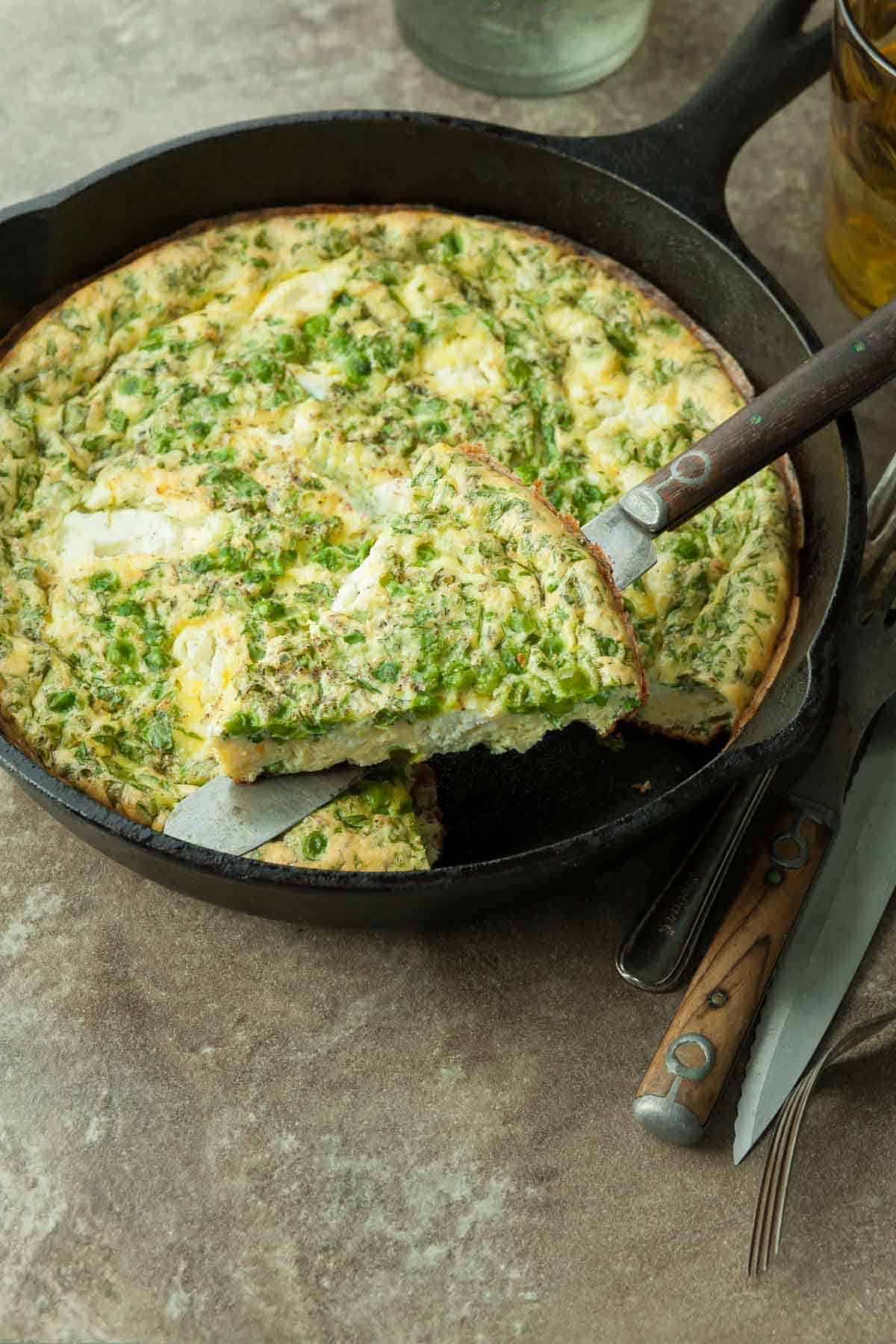 How to make a goat cheese frittata in the oven:
This baked frittata is all about seasonal ingredients; light and fluffy it features peas and fresh herbs along with tangy goat cheese for a spring-inspired flavor. I've used a mixture of green onions, chives, parsley and dill but feel free to experiment with your own favorite herbs. 
You start by oiling and pre-heating a cast-iron pan in the oven.  Since this is a baked frittata pre-heating the pan before pouring in the eggs prevents a soggy bottom.  The heat of the pan sets the eggs as they are poured in.
Then you simply whisk together your eggs, yogurt and fresh herbs and pour it into the hot pan.
Next a handful of blanched peas are sprinkled over the egg mixture.
The goat cheese is the final touch before the pan is returned to the oven to cook until puffed around the edges. Simply slice or crumble the goat cheese on top in large chunks to create pockets of soft melted cheese as the frittata bakes.
Serve it warm, at room temperature or even cold from the fridge the next day by itself or with a simple salad on the side and you have yourself an easy spring-inspired meal that's perfect for any time of day.
More egg recipes to try:
Yield:

Serves 6
Goat Cheese Frittata
Packed with creamy goat cheese, peas and fresh herbs, this spring-inspired goat cheese frittata is a simple and satisfying one-skillet meal.
Ingredients
1 Tablespoon/15ml extra-virgin olive oil (for pan)
½ cup/ 85g frozen peas
7 large eggs
¼ cup/60ml whole yogurt (I use goat milk yogurt)
¾ teaspoon fine sea salt
⅛th teaspoon freshly ground black pepper
1-2 green onions, finely chopped
¼ cup flat leaf parsley, finely chopped
¼ cup dill leaves, finely chopped
2 Tablespoons finely chopped chives
4 oz/113g fresh goat cheese, sliced or coarsely crumbled
Instructions
Pre-heat oven to 375 degrees F. Generously oil an 8-inch cast iron or other oven-proof skillet with oil and place in oven.
Bring a pot of salted water to a boil and blanch peas for 2-3 minutes. Then drain and set aside.
In a large bowl whisk together the eggs, yogurt, salt, pepper, green onion, parsley, dill and chives until well combined.
Carefully remove pre-heated skillet from the oven and pour in egg mixture. Scatter peas and goat cheese evenly across the top.
Return to oven and bake for about 25 minutes until puffed and just set in the center.
Remove from oven and cool on a wire rack before cutting. Serve warm or at room temperature, store leftovers in an airtight container in the fridge for 3-4 days.
Notes
Substitutions:
Use a mixture of your favorite fresh herbs. Basil is great.
Use blanched asparagus in addition or instead of the peas.
Can't find goat cheese? Use feta instead.
Recommended Products
As an Amazon Associate and member of other affiliate programs, I earn from qualifying purchases.
Nutrition Information:
Yield:
6
Serving Size:
1
Amount Per Serving:
Calories:

173
Total Fat:

12g
Saturated Fat:

5g
Trans Fat:

0g
Unsaturated Fat:

6g
Cholesterol:

226mg
Sodium:

453mg
Carbohydrates:

4g
Fiber:

1g
Sugar:

2g
Protein:

12g
Nutritional information for recipes contained on this website, such as calories, fat, carbs, etc. are only estimates and are not guaranteed to be accurate.
Sylvie Shirazi is the recipe developer and food photographer behind Gourmande in the Kitchen. For the last 10 years she's been making eating more healthfully easy and accessible with gluten-free, grain-free, paleo and vegan recipes that are free from processed ingredients.