Wake up to a satisfying breakfast of portobello mushroom eggs benedict featuring roasted asparagus and a creamy goat cheese sauce.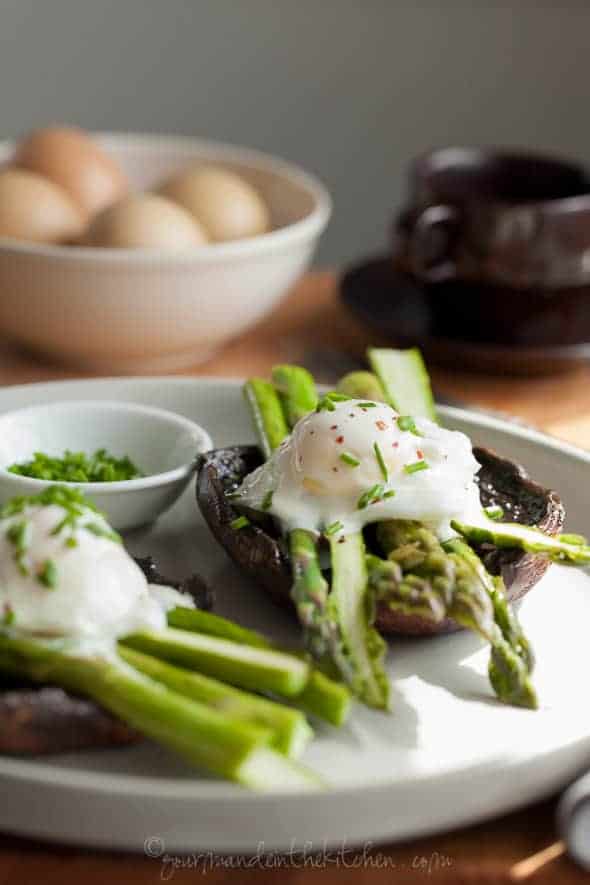 This is just the kind of meal I keep in heavy rotation during asparagus season.  It's quick, easy and a terrific combination of tastes and textures that's always satisfying.  It's my lighter variation of Eggs Benedict.
I've called this portobello mushroom eggs benedict breakfast, lunch and dinner because it's a natural for any time of the day.  It's really a fairly straightforward combination of ingredients, layered for presentation and tied together with a creamy but delicate sauce.
How to make portobello mushroom eggs benedict:
Fresh asparagus spears topped with a delicate poached egg are at the center of this particular dish.
I've swapped out bacon for asparagus and an English muffin for a roasted portobello mushroom cap.  I've also done away with the hollandaise sauce in favor of a lighter, tangier and super quick goat cheese sauce.  This makes for a dish that's at once hearty but cleaner and fresher tasting than its namesake.
The portobello caps and asparagus spear roast quickly in the oven while your eggs are poaching and the goat cheese sauce is whizzed up in no time in the blender in order to keep things as simple as can be.  A scattering of chives across the top brings a touch of freshness and green to the final dish.
This is also one of my favorite weekend brunch dishes because it easily feeds a crowd if you double the quantities.  Basic, comforting, versatile; it's a lighter spin on an old standby.
Yield:

2 Servings
Portobello Mushroom Eggs Benedict with Asparagus
Wake up to a satisfying breakfast of portobello mushroom eggs benedict featuring roasted asparagus and goat cheese.
Ingredients
2 medium to large Portobello mushroom caps, stems removed
½ a small bunch asparagus, stems trimmed and cut lengthwise if thick
3 Tablespoons/45ml extra virgin olive oil (divided use)
1 small garlic clove, finely minced or grated
Sea salt
Freshly ground pepper
2 oz/156g fresh goat cheese
1 Tablespoon/15ml freshly squeezed lemon juice
2 large eggs
1 Tablespoon chopped chives for serving
Instructions
To make goat cheese sauce:
Combine the goat cheese, 1 Tablespoon of water, the lemon juice, ¼ teaspoon salt, and ⅛ teaspoon white pepper and 1 Tablespoon of olive oil in a small blender or food processor. Blend on high until smooth. (You can double the goat cheese sauce recipe if you don't have a small blender or food processor and just save half for later use.) Set aside.
To make the mushroom caps and asparagus:
Heat broiler. Brush the mushroom caps and asparagus (if your asparagus spears are very thick cut them lengthwise) all over with remaining 2 Tablespoons of the oil and minced garlic and season with a few pinches of salt and pepper.
Place mushroom caps on a baking sheet and broil stem side down for 5 minutes. Flip the mushrooms and add the asparagus spears to the sheet. Broil for an additional 3 minutes, or until tender and lightly golden.
To make the poached eggs:
Bring a shallow pan of salted water to a gentle simmer.
Carefully crack each of the eggs into the water. Turn off the heat, cover and let sit for 5 to 7 minutes (depending on how runny you like your yolks), then carefully remove from the pan using a slotted spoon and drain on a clean kitchen towel.
Top each mushroom with a few asparagus spears and a poached egg. Spoon goat cheese sauce over along with an extra sprinkle of pepper and chopped chives and serve immediately.
Nutrition Information:
Yield:
2
Serving Size:
1
Amount Per Serving:
Calories:

209
Total Fat:

21g
Saturated Fat:

5g
Trans Fat:

0g
Unsaturated Fat:

15g
Cholesterol:

55mg
Sodium:

182mg
Carbohydrates:

1g
Fiber:

0g
Sugar:

0g
Protein:

5g
Nutritional information for recipes contained on this website, such as calories, fat, carbs, etc. are only estimates and are not guaranteed to be accurate.
Sylvie Shirazi is the recipe developer and food photographer behind Gourmande in the Kitchen. For the last 10 years she's been making eating more healthfully easy and accessible with gluten-free, grain-free, paleo and vegan recipes that are free from processed ingredients.