30+ refreshing drinks to cool off with during the summer months.
The mercury is on the rise which means it's time to start swapping out some of those cozy cups of coffee and tea for something a little more refreshing. Ice cold drinks are a must when the summer heat is at its worst, so I've put together this collection of crisp and refreshing summer drinks to quench your thirst and help keep you cool over the next few months.
Nothing says summer more than being outdoors, and whether you're relaxing on the porch, at a backyard barbecue, or lounging poolside, you need a little something to sip on. With both non-alcoholic and alcoholic drinks as well as lemonades, juices and smoothies, there's a drink recipe here for every occasion.
If you're feeling adventurous: make a bottle of switchel or your own probiotic lemonade. If you're looking for something a little more classic, try an iced tea or a watermelon agua fresca.
Whichever you choose, summer is the time to sit back without a care in the world and a drink in hand.
Here's to summer!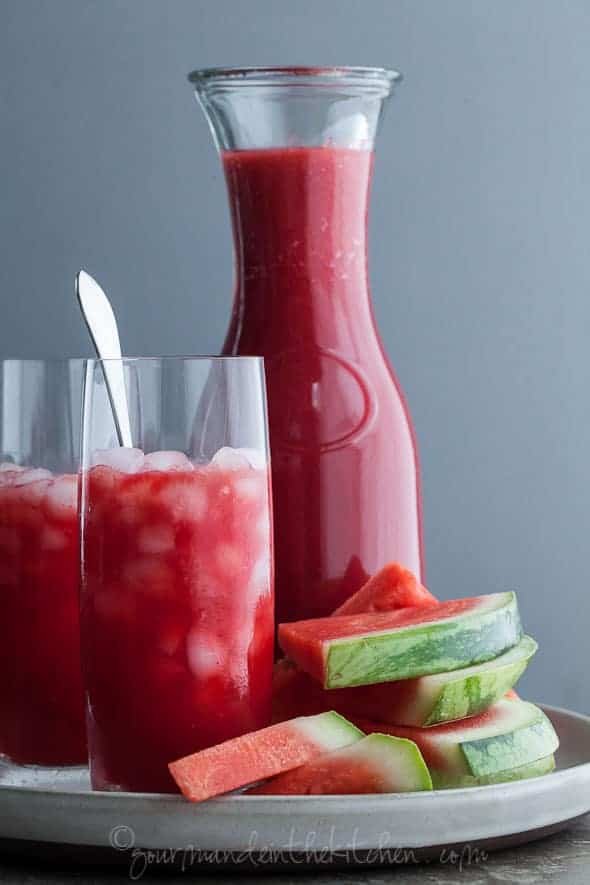 Lemonades:
Watermelon Raspberry Lemonade // Gourmande in the Kitchen
Fermented Probiotic Lemonade // Nourished Kitchen
Berry Lemonade Kombucha // Live Simply
Refreshing Mint Watermelonade // The Healthy Maven
Iced Teas:
Hibiscus Strawberry Iced Tea // Gourmande in the Kitchen
Iced Matcha Green Tea // Oh How Civilized
Turmeric and Ginger Iced Tea // Fresh Bites Daily
Strawberry Chia Seed Iced Green Tea // An Edible Mosaic
Sodas:
Blackberry and Orange Blossom Soda // Gourmande in the Kitchen
Balsamic Roasted Strawberry Italian Cream Soda // Gourmande in the Kitchen
Cherry Bourbon Cacao Nib Ice Cream Floats // Bonjon Gourmet
Toasted Coconut Lime Cream Sodas // Nutritionist in the Kitch
Agua Frescas:
Berry Rosehip Chia Agua Fresca // Gourmande in the Kitchen
Watermelon Mint Agua Fresca // Snixy Kitchen
Cantaloupe and Lime Agua Fresca // Beard and Bonnet
Peach Agua Fresca // Little Spice Jar
Juices:
Sparkling Pineapple Mint Juice // Gourmande in the Kitchen
A Trio of Vegetable Juices // Gourmande in the Kitchen
Glow Bay Glow Cucumber Honeydew Kale Shots // Holly and Flora
Cucumber Mint Cooler // Kale and Caramel
Smoothies:
Tropical Sunshine Smoothie // Gourmande in the Kitchen
Pink Flamango Smoothie // Gourmande in the Kitchen
Drink Your Greens Smoothie // Gourmande in the Kitchen
Mango Coconut and Dragonfruit Smoothie // Downshiftology
Cocktails and Mocktails:
Green Apple Ginger Martini // Gourmande in the Kitchen
Rose Spritzer // Vegetarian Ventures
Roasted Cherry Sangria // Nosh and Nourish
Skinny Paloma // Eating Bird Food
Pineapple Coconut Cocktail // My Heart Beets
Hibiscus Grapefruit Cocktail // Salted Plains
Cantaloupe Mocktini Martini // Tasty Yummies
Other:
Lemon Goji Switchel // Gourmande in the Kitchen
Pomegranate Blueberry Matcha Tea Slushy // Gourmande in the Kitchen
Watermelon Cucumber Cooler // Floating Kitchen
Sparkling Melon Coolers with Muddles Raspberries and Mint // Faring Well