10 fresh and easy vegetarian spring recipes that feature the best of the season, like asparagus, peas, radishes, fresh herbs and more.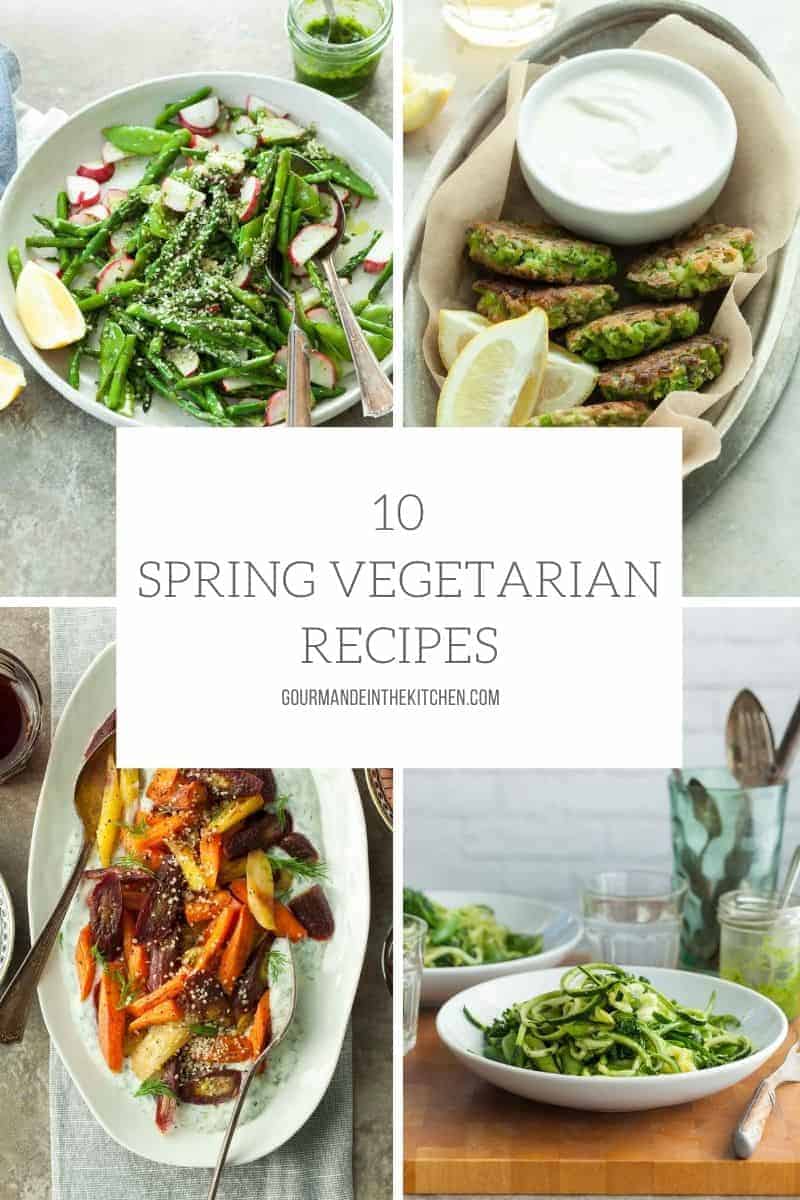 Spring has finally arrived and that means it's time for asparagus, fresh herbs, peas, radishes, spinach and more! While wintertime staples can certainly be cozy and comforting, spring is all about freshness and lightness.
Although these days we can get most vegetables year-round, they undeniably taste better in-season. An abundance of fresh produce makes spring a great time to add more vegetables to your diet, so I've collected some of my favorite spring vegetarian recipes. Filled with the season's best produce, these healthy spring recipes are perfect for everyday meals as well as parties and picnics. While by no means an exhaustive list of what the season has to offer I hope that these can serve as inspiration for your next meal.
Pasta primavera gets a makeover in this fresh zucchini noodle version featuring lots of spring vegetables.
These vegan tacos are filled with asparagus, mushrooms, spinach and a creamy jalapeno and cilantro crema.
These crispy little pea fritters are loaded with fresh mint and lemon and served with a tangy yogurt sauce on the side.
This savory yogurt bowl topped with an herb filled chopped cucumber and radish salad is creamy, cooling and makes for a simple but tasty lunch. If you like tzatziki or raita then you'll like this.
These bite-sized vegan lettuce cups are bursting with an assortment of crisp and crunchy spring vegetables and herbs.
Fresh herbs like cilantro, parsley, dill and chives or green onions make up the bulk of these mini Persian frittatas with just enough egg added to hold it all together.
This fresh and crunchy sesame snap pea salad is perfect for picnics and a snap to make.
This silky smooth vegan spinach and broccoli soup is packed with green vegetables.
Sautéed asparagus and snow peas are tossed with crisp radishes and a deliciously fresh tasting lemon dill oil.
Creamy, herbed filled yogurt serves as a bed for a pile of sumac roasted carrots in this simple spring dish.
Enjoy!
Sylvie Shirazi is the recipe developer and food photographer behind Gourmande in the Kitchen. For the last 10 years she's been making eating more healthfully easy and accessible with gluten-free, grain-free, paleo and vegan recipes that are free from processed ingredients.