From soups to salads and sides, these gluten-free and vegan thanksgiving recipes will make all your guests feel included.
What would the holidays be without all the food and parties? But things can get tricky when it comes to guests with special diets or food allergies. Being on a restricted diet can naturally cause some concern during the holidays, it's easy for hosts to feel stressed about what to serve and for guests to feel like they are being a burden or are missing out on the festivities.
A holiday meal that accommodates your gluten-free, grain-free, dairy-free, vegan, and paleo guests however, is possible. I've gathered some of my favorite soups, sides and salads that almost everyone will be able to enjoy so that no one feels left out. From hearty salads like a shredded Brussels sprouts and kale salad with a maple Dijon vinaigrette to comforting sides like my sweet potato and butternut squash gratin and silky soups filled with seasonal vegetables, these dishes will have everyone coming back for seconds regardless of their diet. And if you're a guest rather than a host, bring one along so you'll be sure to have something to eat.
SOUPS
Winter Squash Soup (Gluten-Free, Grain-Free, Paleo, Vegan)
This savory squash soup makes for a cozy and warming addition to any meal.
Warm spices like ginger, turmeric and cinnamon infuse this silky soup.
This velvety soup made with celery root and potatoes, is topped with sautéed shiitake mushrooms.
This golden hued soup is filled with hearty winter root vegetables.
This creamy spiced sweet potato and carrot soup gets a dose of fall flavors and a bit of heat from cinnamon, nutmeg and a pinch of cayenne.
SALADS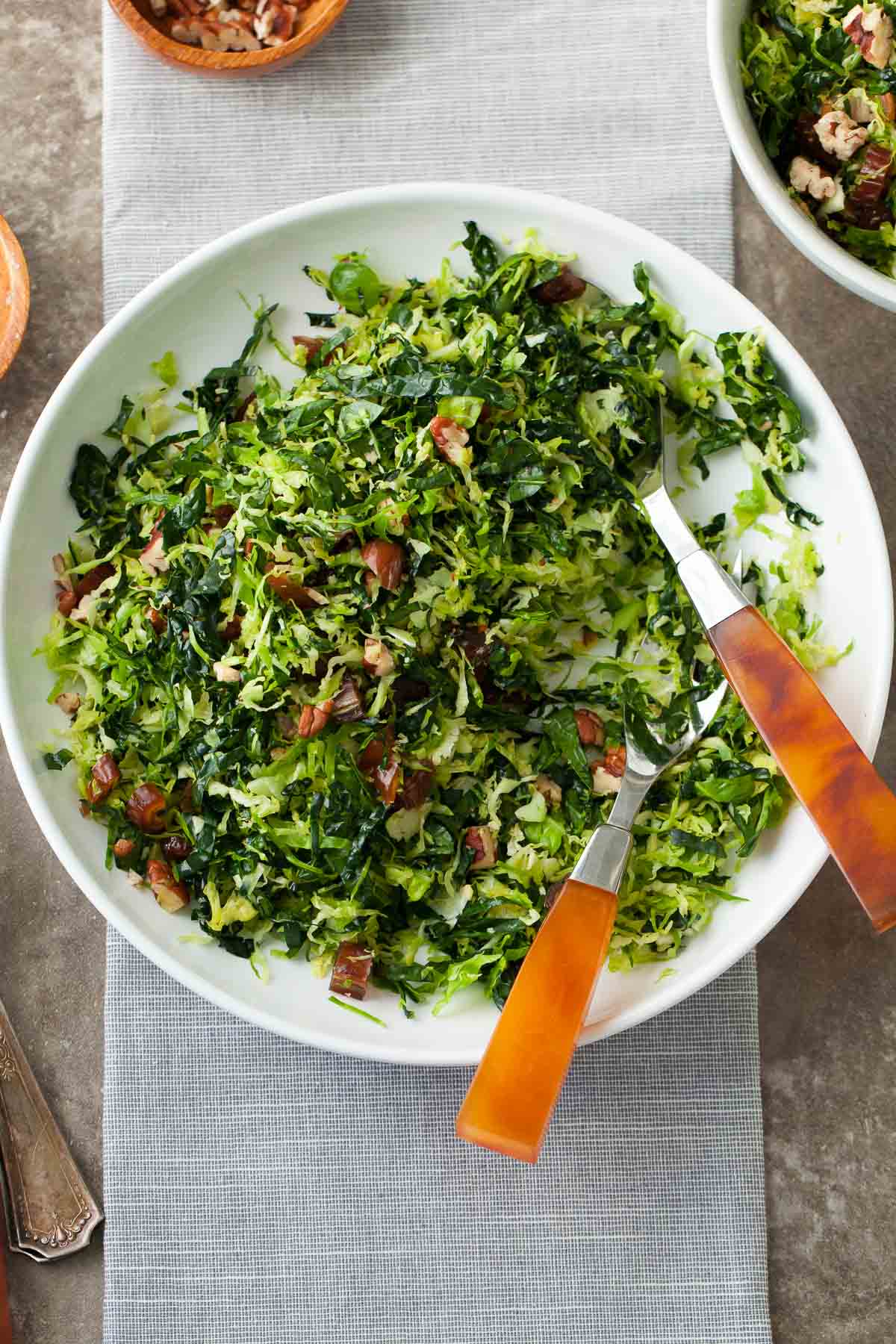 This simple slaw is a fresh addition to any holiday menu and an easy dish to bring along if you're a guest.
This warm winter salad is built on a base of shredded kale and roasted roots.
Bring a pop of color to your holiday or dinner table with sweet-tart pomegranate glazed beets served over their own greens.
This salad is filled with fall favorites like butternut squash, pears and pecans and is mostly prepared ahead of time for a less stressful holiday.
There's nothing better than a fresh fruit salad to break up the assault of overly rich foods we so joyful indulge in around the holidays.
SIDES
This thyme scented sweet potato and butternut squash gratin is a savory alternative to the usual sweet potato casseroles for the holiday season.
Apples and squash are tossed together with a combination with maple, sage and a hint of apple cider vinegar, then roasted until tender, caramelized, and coated with a sticky-sweet glaze.
Creamed Kale Gratin (Gluten-Free, Grain-Free, Paleo, Vegan)
Turn your favorite leafy green into a delicious holiday gratin by baking it in the oven with a creamy dairy-free sauce and crumbly topping.
Maple syrup and fresh ginger create a sweet-hot glaze for carrots.
A creamy purée of celery root and cauliflower topped with garlicky sautéed greens makes for a delicious alternative to mashed potatoes.
Happy Holidays!
Sylvie Shirazi is the recipe developer and food photographer behind Gourmande in the Kitchen. For the last 10 years she's been making eating more healthfully easy and accessible with gluten-free, grain-free, paleo and vegan recipes that are free from processed ingredients.