Tender green beans, juicy figs and crunchy radicchio are tossed together with fresh herbs in this summery salad.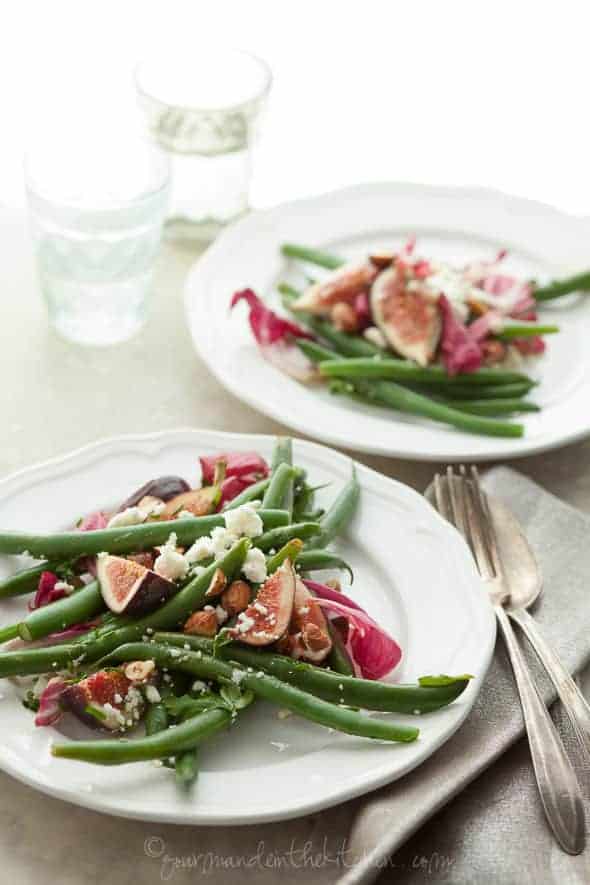 Simple salads are a staple for me during the summer season and with the plethora of produce rolling into the markets this time of year there's certainly no shortage of things to throw into one.
Green beans often make it into the rotation around here; their tender bite and mild flavor make them an appealing option for a heartier salad.  Not to mention that they stand up quite well to vinaigrettes without getting soggy like lettuce, making them an ideal choice for picnics and parties.  Add some juicy figs, fresh herbs, toasted nuts and a generous sprinkling of cheese and you have yourself an easy summer staple that comes together in a flash.
A lively mix of textures and flavors; each bite is a little creamy, crunchy and sweet.  You get a wonderful creaminess and tang from the cheese (either goat cheese or sheep's milk feta), welcome crunch from the hazelnuts and gentle sweetness from the figs.  It's substantial enough for lunch on its own but fits in just as nicely on a buffet or picnic table.
You simply blanch some green beans then toss them with a tangy/sweet balsamic fig vinaigrette.  In goes some radicchio for color (and its nice bitter edge), then a fistful of fresh parsley and chives, followed by those toasted nuts and juicy ripe figs (I'm not so fussy about the variety and just toss in whichever ones are looking most ripe and flavorful.)
The final flourish is the cheese which ties it all together.  My two favorites for this salad are mild, creamy goat cheese and slightly salty, crumbly sheep's milk feta cheese, both which go beautifully with the green beans and figs.
I've always loved goat cheese and feta and you'll often find them in my fridge and in my recipes, which is why I welcomed the chance to create a recipe showcasing both for Art of Cheese by Président Cheese.  I choose their goat cheese for this salad when I'm craving the creamy tang of fresh goat milk and sheep's milk feta when I want that briny hit.  Either one makes an excellent companion to the fresh green beans and ripe figs that are the backbone of the salad; add a glass of crisp white wine to compliment the cheese pairing even further and you have the makings of special summer meal.
Here's to summer!
(Disclosure: This recipe and post was created as part of my paid collaboration with Lactalis and ArtOfCheese.com.)
Fig, Green Bean and Radicchio Salad with Hazelnuts
---
A lively mix of textures and flavors; each bite is a little creamy, crunchy and sweet.
Ingredients
1 pound/16oz slender green beans or French haricots vert
2 Tablespoons/30ml balsamic or sherry vinegar
2 Tablespoons/30ml extra virgin olive oil
1 Tablespoon/15ml naturally sweetened fig jam
Coarse sea salt and freshly ground pepper to taste
2 Tablespoons finely chopped fresh chives
¼ cup fresh flat-leaf parsley, roughly torn
1 small head of radicchio, roughly torn
1 small basket (about 6-8) fresh ripe figs, halved or quartered
1/4 cup/28g hazelnuts , lightly toasted and roughly chopped
2-4 oz/56-113g of Président® plain goat log, crumbled into chunks or 2-4oz/56-113g Président® Valbreso Feta 100% sheep's milk feta crumbled
Instructions
Bring a large pot of salted water to a boil. Add the green beans and cook until they are barely crisp-tender, about 2-3 minutes (be careful not to overcook them as they'll lose their color and crunch.)
Drain and rinse the green beans under cold water or in an ice bath until they are cool to the touch and pat dry.
In a large bowl whisk together the vinegar, olive oil and fig jam. Salt and pepper to taste. Toss the cooled green beans, chopped chives, torn parsley and radicchio leaves with the vinaigrette and place on large platter.
Top with quartered figs, toasted hazelnuts and crumbled goat and/or feta cheese.
Season with additional salt and pepper if desired and serve immediately.
Notes
7.8.1.2
139
https://gourmandeinthekitchen.com/fig-green-bean-and-radicchio-salad-with-hazelnuts/
gourmandeinthekitchen.com
P.S. If you'd like to enter to win $50 worth of Président cheese, visit ArtOfCheese.com, where you can grab a coupon, enter the Pinterest sweepstakes and find more recipe ideas.