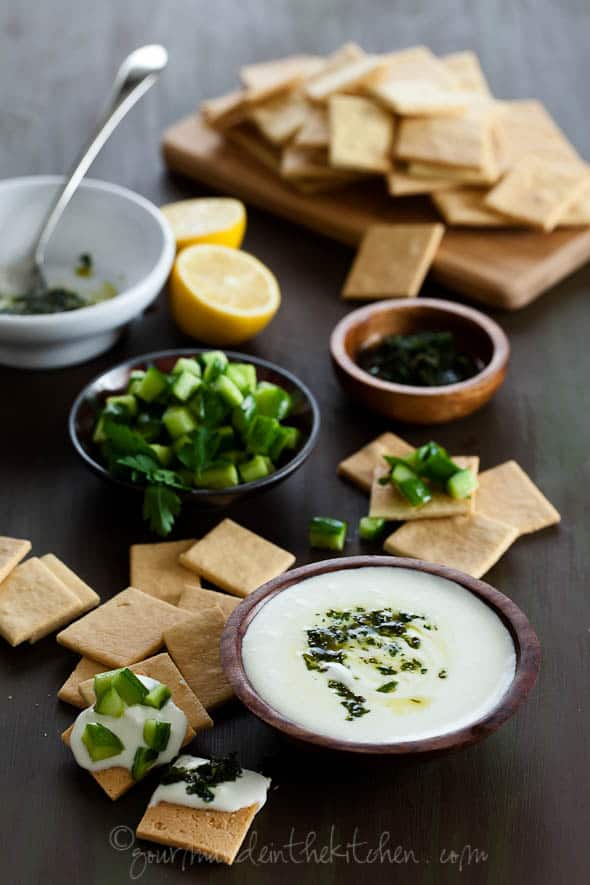 Pin It
I have to confess, these past few days I've felt pretty uninspired with cooking.  You would think that'd be impossible considering how much of my time is spent thinking about and even dreaming about food, but it happens.
Oh, there are artichokes and asparagus and all manner of tempting produce in season at the moment, but sometimes the truth of the matter is there are many days when the last thing I want to do is cook.
So this is the general course of events on those days: my stomach rumbles, I go to fridge, open the door, and sigh.
A few bites of leftovers here and there, a couple slivers of cheese, a few nuts, maybe a few berries if I've got some and I call it a meal.  Oh, and this dip.
This is my go-to dip.  Smooth and creamy, this is the sort of thing I could sit down and make a meal of. I have a thing for feta. I'll put it on any and everything, it's salty and creamy and just so good. 
The tangy, salty flavor of this whipped feta dip is like a taste of the Mediterranean.  Its origins are Greek inspired with a bright kick of lemon, that I  finish with a fresh mint and parsley pesto.
Incredibly smooth and airy, it's a good starting point for a dinner party or even an entire meal. Serve it with pita bread or with almond crackers (as I did) and a side of cucumbers lightly dressed in lemon juice and olive oil. For a one bowl meal, pile crackers into bowl, scrape mint pesto feta dip onto said crackers and spoon cucumbers on top.  Grab a spoon, fork, or just your fingers and dig in.
Creamy Whipped Feta Dip Recipe with Mint Parsley Pesto and Cucumbers
---
The tangy, salty flavor of this whipped feta dip is like a taste of the Mediterranean.
Ingredients
½ pound/ 8oz Sheep's Milk Greek feta
The juice of one fresh lemon, divided
2 Tablespoons thick Greek yogurt or drained plain yogurt
1 small garlic clove
¼ cup (one handful) fresh mint
½ cup (2 handfuls) fresh flat leaf parsley, divided (1/2 finely chopped for cucumber salad)
¼ – ½ cup extra virgin olive oil or as needed, divided
fine sea salt
finely ground black pepper, or more or less to taste
2 or 3 small Persian cucumbers or ½ a hothouse cucumber, finely chopped
Instructions
Rinse and gently pat dry the feta and place it in the bowl of a food processor.
Pulse together with half of the lemon juice and the Greek yogurt until smooth and creamy.
Remove and refrigerate for at least 1 hour.
Clean out your bowl and place the garlic, mint, half of the un-chopped parsley and a pinch of salt and pepper inside. Pulse until finely chopped.
Turn food processor to "on" and stream in olive oil until a pesto-like consistency is achieved. Remove and set aside.
Combine the remaining lemon juice, olive oil and the ¼ cup of finely chopped parsley with a pinch of salt and pepper to the chopped cucumbers.
Mix to combine and place in serving bowl.
Just before serving, place the feta dip in a shallow serving bowl and top with the mint, parsley pesto and an extra drizzle of olive oil if desired.
Serve with the cucumber salad on the side and pita chips or crackers of your choice. (I served mine with grain-free almond flour crackers)
Notes
Gluten Free, Grain Free, Vegetarian
7.8.1.2
34
https://gourmandeinthekitchen.com/feta-dip-mint-parsley-pesto-cucumber-salad-recipe/
gourmandeinthekitchen.com
What's your go-to meal when you don't feel like cooking?