10 ways to use a tea towel and a chance to win 4 hand silkscreened organic cotton tea towels for your own kitchen.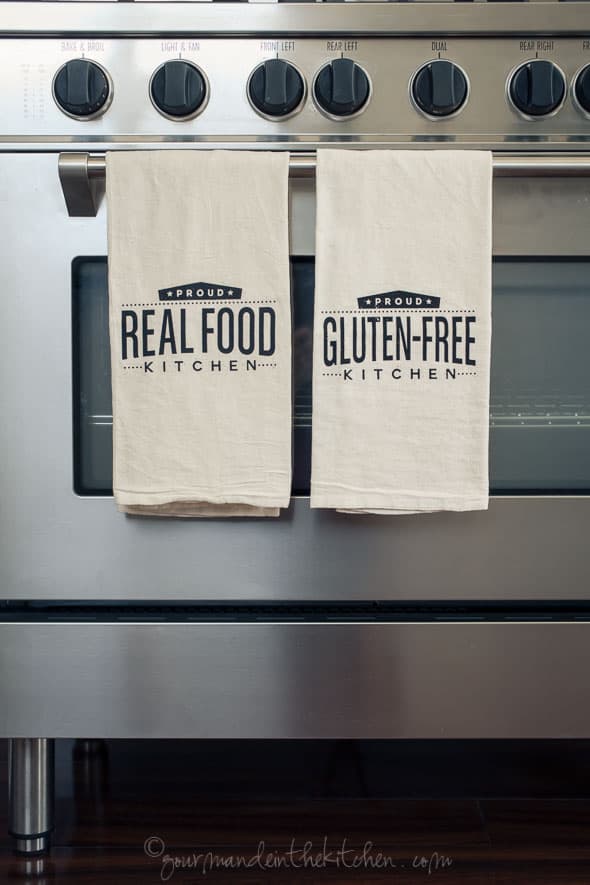 Sharp knives, a sturdy cutting board and good quality pots and pans are just a few of the items that top the list of kitchen tools you probably reach for everyday in your kitchen; but what about a tea towel?
A stack of clean tea towels can do so much more than just dry dishes. An old fashioned tea towel is more than just a pretty accent; this practical and versatile piece can pull its weight around the kitchen.
Since moving away from using paper products like paper towels and napkins in my kitchen, I now always have plenty of dish rags, microfiber cloths and tea towels on hand. Here are a few of my favorite ways to use tea towels:
To line a serving basket or tray.
To cover and keep food warm like scones, biscuits and rolls.
As napkins or casual placemats.
Placed between pots and pans to protect from scratches when stored.
To dry and store salad greens.
To line the crisper drawers in the fridge.
Dampened and placed under a cutting board to prevent it from slipping when chopping.
As a tea pot cozy to keep tea or coffee warm.
To create a tight seal on pots when steaming.
To make oven baked eggs.
And because I think everyone should have a few tea towels in their kitchen I've teamed up with my friend Beth from Tasty Yummies who has just launched a new line organic cotton tea towels to give you a chance to win a set of 4 for your own kitchen.
Each are designed and illustrated by Beth and her husband Mark who hand silkscreen print them themselves with non-toxic water based inks. She has generously offered to provide one Gourmande in the Kitchen reader a set of 4 organic tea towels of their choice from their design studio (I have the proud gluten-free kitchen, proud real food kitchen and people who love to eat tea towels hanging in my own kitchen.) Just enter below for a chance to win!
Sylvie Shirazi is the recipe developer and food photographer behind Gourmande in the Kitchen. For the last 10 years she's been making eating more healthfully easy and accessible with gluten-free, grain-free, paleo and vegan recipes that are free from processed ingredients.