Thin ribbons of zucchini are slicked with a light vinaigrette, and tossed with black olives and mint in this fresh summer salad.
Zucchini has taken up permanent residence at my house for the next few months; it happens every summer.
Those who grow zucchini in their gardens know that come summer they'll have a glut of this prolific crop to unload on friends and neighbors, and having no garden of my own I'm one of the willing takers. In fact I'll enthusiastically grab them up at the market as well; I for one am ready for the onslaught.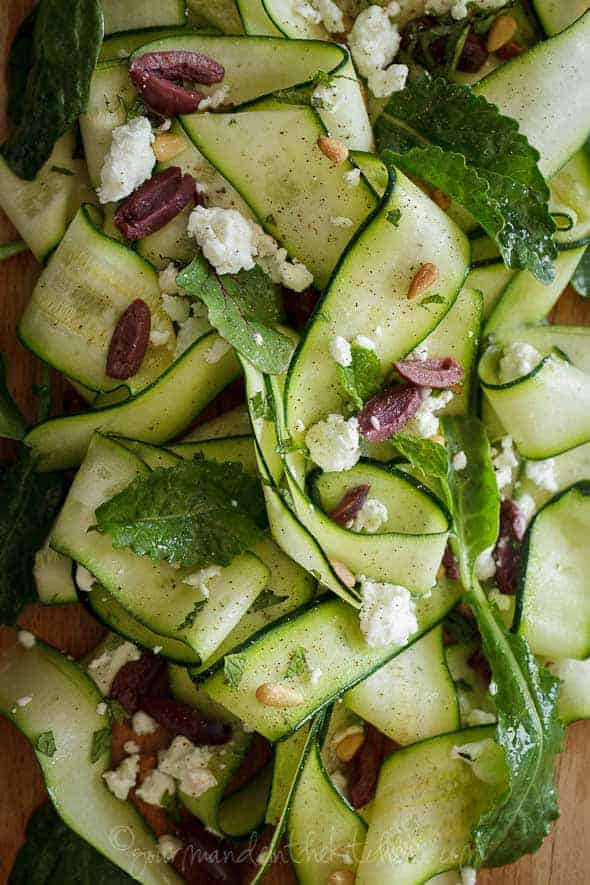 Zucchini is suddenly turning up in everything and reminding me once again just how under-appreciated this slender green vegetable really is. From quick breads to salads, to frittatas to soups, zucchini is the star of the summer months and making my taste buds jump for joy.
If you're one of those types with a green thumb and are looking for a way to use up an over abundant crop then I may have the answer to your endless zucchini supply. This salad is a staple in my house during the season.
The slender green summer squash with its delicate flesh is easily transformed into something special with just a few basic ingredients. Ribbons of zucchini are barely slicked with a light vinaigrette of lemon juice and olive oil, little bits of black olives shimmer in the midst of mint and tender greens. Pine nuts are gently toasted until light and golden and tossed in the fold with crumbled fresh goat cheese.
It's essentially just a salad of thinly sliced zucchini, but there's something synergistic about the interplay of all the parts that makes your taste buds stand at attention.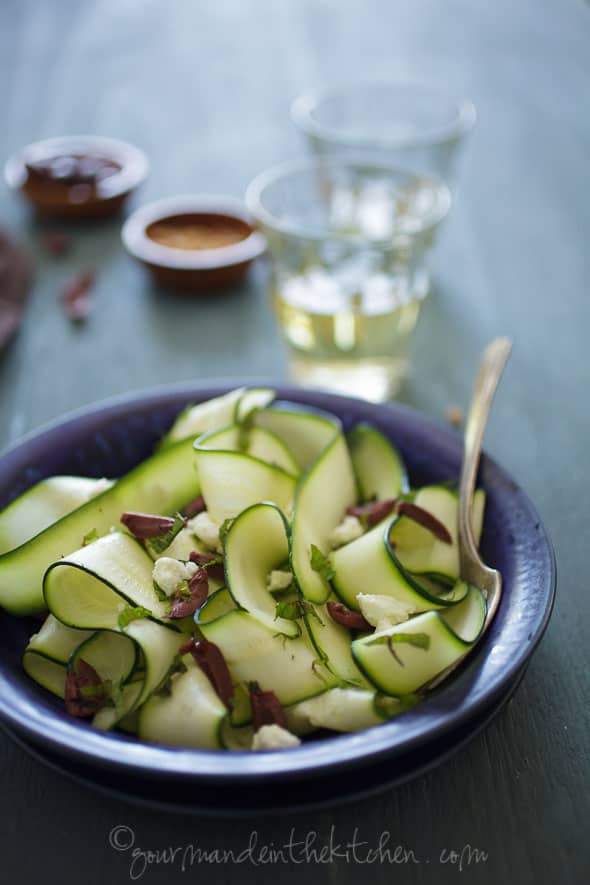 This zucchini ribbon salad is casual and satisfying, just the kind of food I like the most. It's light yet creamy at the same time, and a minimal time investment. I think you're going to like it, and if you're anything like me you'll be making it again and again all summer long.
Yield:

4 Servings
Raw Zucchini Ribbon Salad with Olives and Mint
Thin ribbons of zucchini are slicked with a light vinaigrette, and tossed with black olives and mint in this fresh summer salad.
Ingredients
3 Tablespoons/45ml olive oil
2 Tablespoons/30ml of freshly squeezed lemon juice (about half a lemon)
½ teaspoon finely grated fresh lemon zest
2 pounds medium zucchini (about 5-6)
¼ cup chopped fresh mint
¼ cup chopped black olives
2 oz/57g Mixed greens like baby spinach, and baby kale
2 oz/56g of goat cheese
2 Tablespoons/15g of lightly toasted pine nuts
Sea salt and freshly ground pepper to taste
Instructions
In a large bowl, whisk the olive oil, lemon juice, and lemon zest. Season to taste with salt and pepper.
Trim the ends of the zucchini. With a vegetable peeler, shave lengthwise into long, wide strips about 1/16 inch thick. When you get to the center of the zucchini, turn it over and slice from the other side until you get to the center again.
Put the zucchini ribbons in the large bowl, add the chopped mint, olives and greens, toss gently with vinaigrette to lightly coat.
Top with crumbled goat cheese and toasted pine nuts. Serve immediately.
Notes
Gluten-Free, Grain-Free, Vegetarian
Nutrition Information:
Yield:
4
Serving Size:
1
Amount Per Serving:
Calories:

230
Total Fat:

22g
Saturated Fat:

5g
Trans Fat:

0g
Unsaturated Fat:

16g
Cholesterol:

7mg
Sodium:

148mg
Carbohydrates:

6g
Fiber:

2g
Sugar:

3g
Protein:

5g
Nutritional information for recipes contained on this website, such as calories, fat, carbs, etc. are only estimates and are not guaranteed to be accurate.
Sylvie Shirazi is the recipe developer and food photographer behind Gourmande in the Kitchen. For the last 10 years she's been making eating more healthfully easy and accessible with gluten-free, grain-free, paleo and vegan recipes that are free from processed ingredients.