This sweet and spicy cinnamon, ginger, turmeric and persimmon tea radiates warmth and comfort.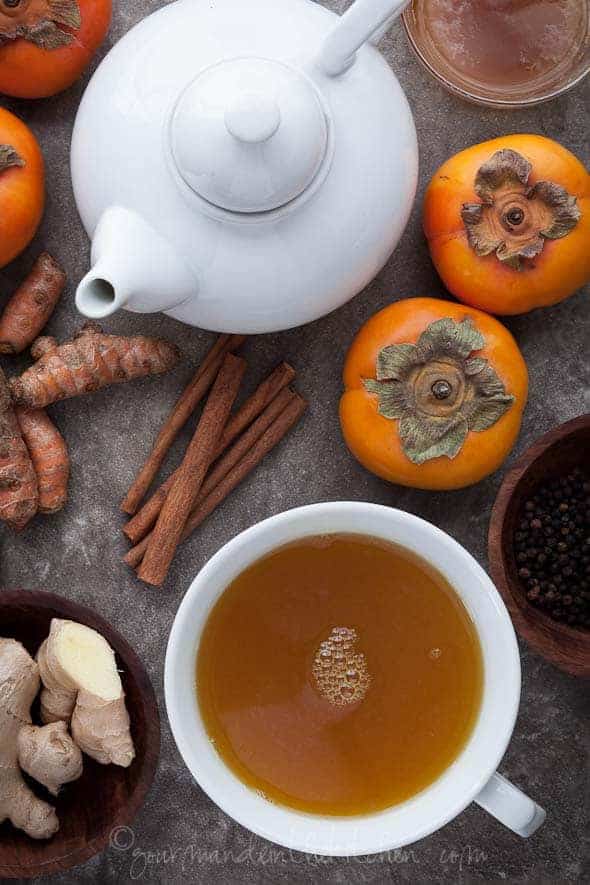 A nice cup of tea never fails you when you need it. When I'm in need I turn to this recipe, it has become my usual cup as of late; my first choice in the morning, and the one that steams from my mug at the end of the day. The sweet and spicy taste of this bright golden orange tea radiates warmth and comfort and envelopes me with its soothing aroma.
Although technically an infusion and not a proper tea (since it contains no tea leaves and is naturally free of caffeine) its tongue tingling properties are just perfect for the fall and winter seasons when our bodies and immune systems often take a beating. With plenty of hot spices, this naturally warming and anti-inflammatory infusion is just the thing to sooth an ailing stomach or ward off a chill.
The key spices here are cinnamon, ginger and turmeric, all with a rich history of medicinal use. An invigorating kick of black pepper and the subtle sweetness of persimmons completes the package; each playing a key role and adding depth and complexity to the final preparation. The heat of the ginger and pepper call attention to the earthiness of the turmeric, an accent of cinnamon sets them off and the whole thing is smoothed out by the sweetness of the persimmons.
Spicy ginger supports digestion, fragrant cinnamon helps to regulate blood sugar and had anti-microbial properties, sweet persimmons in tea are a natural Asian remedy for acid reflux and earthy turmeric along with the black pepper has anti-inflammatory and anti-cancer properties. The bioavailability of the active part of turmeric called curcumin is greatly enhanced by the presence of piperine which is found in black pepper which is probably why turmeric and black pepper are found together in curry.
Rest assured that this decidedly fortifying elixir only requires the slightest effort on your part and can be prepared in large amounts to keep on hand in case of need (ahem…post holiday meal perhaps?) And while it's simmering away on your stove it has the added benefit of wrapping your house in the unmistakably cozy smells of the season.
Yield:

4 Servings
Spiced Persimmon Turmeric Tea
This sweet and spicy cinnamon, ginger, turmeric and persimmon tea radiates warmth and comfort.
Ingredients
8 cups/64oz filtered water
One 3 inch piece peeled and thinly sliced fresh ginger
One 3 inch piece peeled and thinly sliced fresh turmeric root
1 teaspoon fresh good quality peppercorns
6 good quality cinnamon sticks, preferably celyon cinnamon
2 small or 1 large fuyu persimmon, thinly sliced (save a few slices for serving)
Sweetener of choice (ex. honey or stevia) to taste
Instructions
Place the water, ginger, turmeric, peppercorns, cinnamon sticks and persimmon slices in a large saucepan and bring to a boil. Lower heat, and simmer on low for 20 to 30 minutes.
Strain tea through a fine mesh strainer (or pour through a coffee filter to catch sediment).
Pour into cups or bowls. The softened persimmons may also be added or add a few fresh slices for garnish and serve adding preferred sweetener to taste.
Alternatively you can cool the tea to room temperature and refrigerate for a couple of days and reheat as desired.
Nutrition Information:
Yield:
4
Serving Size:
1
Amount Per Serving:
Calories:

43
Total Fat:

0g
Saturated Fat:

0g
Trans Fat:

0g
Unsaturated Fat:

0g
Cholesterol:

0mg
Sodium:

20mg
Carbohydrates:

11g
Fiber:

3g
Sugar:

6g
Protein:

1g
Nutritional information for recipes contained on this website, such as calories, fat, carbs, etc. are only estimates and are not guaranteed to be accurate.
Sylvie Shirazi is the recipe developer and food photographer behind Gourmande in the Kitchen. For the last 10 years she's been making eating more healthfully easy and accessible with gluten-free, grain-free, paleo and vegan recipes that are free from processed ingredients.