An easy no-cook raw fudge that's topped with a layer of rich chocolate ganache and cacao nibs for extra crunch.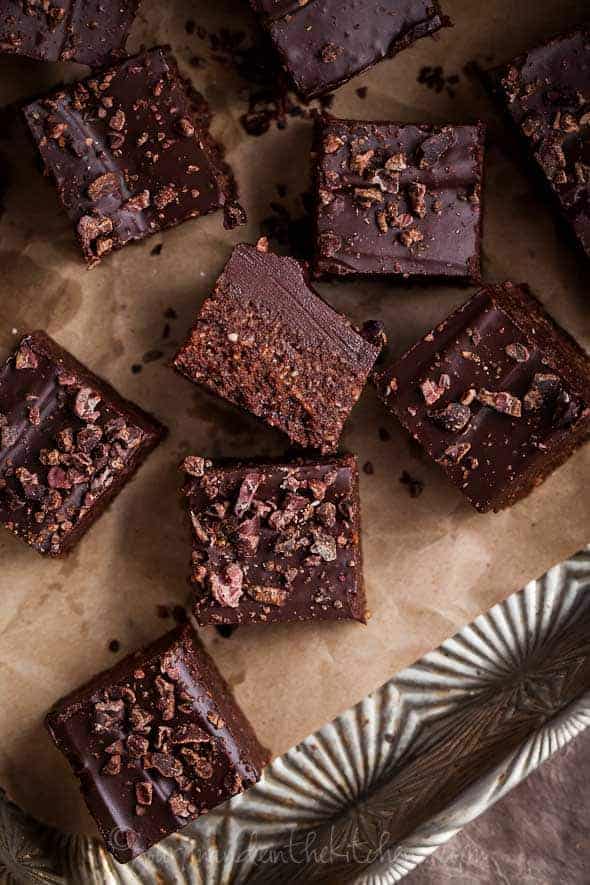 I'm going to get right to the point because I don't want to stand between you and eating this fudge as soon as you can. Here's what you need to know…this isn't your traditional fudge recipe but it sure gives it a run for its money.
I firmly believe that a great chocolate recipe should be two things: deeply rich and incredibly easy to make because when a chocolate craving hits there's no time to waste!
All roads to fudgy richness, however, are not paved equally. There are no processed sugars here; the sweetness comes from naturally sweet dates and pure maple syrup.
This raw cacao fudge is ridiculously simple and whips itself up in less time than you'd imagine. The results will satisfy even the most traditional diehard chocolate lovers but best of all is the short list of no-nonsense raw, wholesome ingredients (and yes I did just say wholesome and fudge in the same sentence).
Raw cacao powder is packed with anti-oxidants (more than even blueberries and red wine) and essential minerals like magnesium and iron that your body needs. Combine that with the healthy fats from nuts and coconut and you have a nutrient rich dessert that your regular fudge recipe can't beat.
In fact I suggest you find yourself a good quality raw organic cacao powder even if you don't make this fudge because there simply is no better excuse to get a little extra chocolate in your diet.
I've gilded the lily and topped the fudgy base off with an additional silky layer of raw chocolate ganache and a sprinkle of cacao nibs for even more chocolaty goodness. A bold hit of chocolate yields quickly to the soft creamy bed of chocolate underneath; it's guaranteed to satisfy even the fiercest sweet tooth.
Raw Double Layer Chocolate Fudge with Cacao Nibs
---
Raw Chocolate Fudge guaranteed to satisfy even the fiercest sweet tooth.
20 minPrep Time
1 hrCook Time
Ingredients
For the fudge base:

2 cups/ 224g raw organic cashews
2 cups/ 240g unsweetened organic shredded coconut
240g (about10 large) very soft medjool dates, pitted
1 cup/ 100g raw organic cacao powder
½ cup/ 120ml organic maple syrup
Pinch of fine sea salt

For the ganache:

1/2 cup/120ml organic maple syrup
1/4 cup/60g extra virgin unrefined coconut oil
1/2 cup/50g raw organic cacao powder
Pinch of fine sea salt
¼ cup/30g of raw cacao nibs for topping
Instructions
Make the fudge base:

Place cashews in the bowl of food processor and grind until very finely ground (be careful to not over process the nuts into butter)
Add the shredded coconut and process until well combined and fine in texture. Add the pitted dates and process until a soft paste forms. Add the cacao powder process again.
Finally add the maple syrup and a pinch of salt and process to combine until a creamy texture is achieved scraping down the sides as needed.
Press firmly into a parchment lined square or rectangular pan or mold.
Place in fridge while making the ganache topping.

Make the ganache topping:

In the food processor, blend together maple syrup and coconut oil until well combined.
Add in cacao powder and a pinch of salt and process until smooth scraping down the sides as needed.
Pour over fudge base and spread out evenly over the top. Sprinkle with cacao nibs and return pan to fridge to set and firm for at least one hour.
Cut into squares and serve the fudge cold. Keep leftovers in an airtight container in the fridge.
Notes
Raw, Gluten Free, Grain Free
7.8.1.2
51
https://gourmandeinthekitchen.com/raw-fudge-recipe/
gourmandeinthekitchen.com