This creamy raw chocolate mousse made from cashews and raw cacao is topped with a layer of bittersweet chocolate ganache and cacao nibs for extra intensity.
Oftentimes recipes come with back stories; there are family favorites, forgotten classics, cultural discoveries, fresh market finds, but sometimes they stand on their own. This is one of those cases, because if we are being honest, chocolate mousse doesn't require much coaxing to make.
Smooth yet intense, chocolate mousse is worthy of celebration, the unforgettable ending to an elegant meal. It's in the dessert big leagues, a special treat to be savored; each silky spoonful something to be lingered over.
Although airier and more velvety than pudding, it shares a similar nostalgic appeal of chocolaty delight in spoonable form. This particular mousse has the added benefit of being dairy-free, refined sugar-free and entirely raw. Of course the best part is how blissfully easy they are to make and enjoy (the whole thing comes together in your blender!)
More full-bodied than your average mousse it has a whipped texture that's creamy, supple and smooth. It's topped with a layer of bittersweet chocolate ganache for extra intensity.
If you have the time, plan on starting a day before serving so that they have time to firm and set up in the fridge (although 4 hours will do if you are impatient like I am).
While objectively this mousse is firmly in the "eat occasionally" dessert camp, it boasts the inclusion of raw cacao which is rich in anti-oxidants (more so than even blueberries) and magnesium (which most of us could use more of). Dates offer a subtle honey-like sweetness along with other essential minerals while the coconut oil helps us to absorb fat-soluble vitamins and keep us feeling full and satisfied.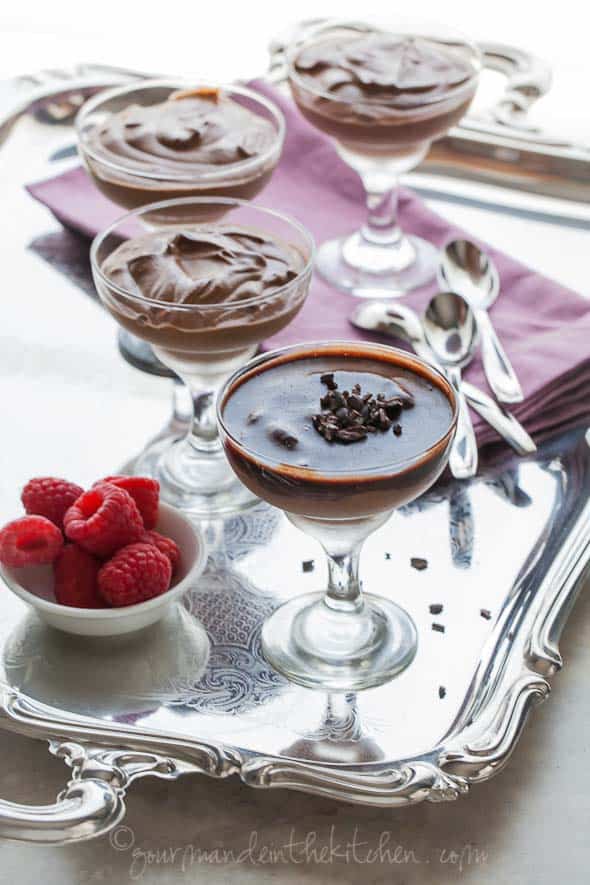 Chocolate mousse as a superfood? Perhaps. Or at least I can dream…
Easy Double Chocolate Mousse Recipe (Raw, Dairy-Free, Paleo)
---
A creamy smooth raw chocolate mousse topped with a layer of bittersweet chocolate ganache for extra intensity.
Ingredients
For the chocolate mousse:

1 cup/ 112g raw cashews, soaked overnight in water
160g/ about 8 large Medjool dates, pitted and soaked overnight in water
¾ cup of filtered water (plus more if needed)
1/4 cup/60ml coconut oil, melted
6 Tablespoons/ 28g raw cacao powder (or natural cocoa powder)
1/4 tsp sea or Himalayan salt
1 vanilla bean, split and seeds scraped (or 1 tsp vanilla extract)

For the chocolate ganache:

½ cup/120ml real maple syrup
2 Tablespoons/30g extra virgin unrefined coconut oil, melted
6 Tablespoons/ 28g raw organic cacao powder
Raw cacao nibs or berries for garnish (optional)
Instructions
Make the chocolate mousse:

Cover the cashews and pitted dates with water and soak for at least 4 hours or overnight in the fridge.
Drain cashews and dates and place in a high-speed blender with filtered water, melted coconut oil, cacao powder, salt and the seeds from the vanilla bean. Blend until completely smooth, scraping down the sides with a spatula occasionally adding extra water a Tablespoon at a time as needed. The mixture should be creamy, smooth and the consistency of a loose batter when done, mousse will set and firm as it cools in the fridge.
Spoon mousse into individual serving bowls and place in fridge while making ganache.

Make the chocolate ganache:

In the food processor, blend together the maple syrup and melted coconut oil until well combined.
Add in the cacao powder and process until smooth scraping down the sides as needed.
Pour the chocolate ganache over mousse and top with cacao nibs if desired, cover and chill for at least 3 to 4 hours or overnight.
Remove mousse from fridge at least 10 minutes before serving for a creamier consistency or serve chilled for a thicker consistency. Serve with berries on the side if desired.
Notes
Gluten-Free, Grain-Free, Dairy-Free, Vegan, Paleo, Raw (use vanilla bean instead of extract and cacao powder instead of cocoa powder)
7.8.1.2
84
https://gourmandeinthekitchen.com/raw-chocolate-mousse-recipe/
gourmandeinthekitchen.com