Apricots are simmered in an aromatic syrup made from white wine, vanilla and honey and served with yogurt and topped with pistachios.
.
What do you do if you buy not-quite-ripe fruit but you just can't wait to eat it?
I was impatient and bought some apricots a few days ago that were just not quite ready. I admit I was lured by the deep orange flesh tinged with red specks and the promise of the sweet buttery flesh.
I most look forward to stone fruits in summer and I just couldn't resist. Suddenly there were apricots at the market and I told myself, "the season is just starting, hold out for the good ones" but promptly disregarded that thought and grabbed a few "just in case."
The ideal apricot is a thing of beauty; it has a soft velvet skin, deeply colored and lightly fragrant with the most enticing perfume when ripe. A good apricot has a soft but firm flesh (never mealy) and rich honeyed flavor. Not as juicy as a peach but just as enchanting. How do you know if you've really found a good one? It's a bit of a gamble but when in doubt trust your nose.
I should have known these weren't quite right; they had all the exterior signs but none of the tell-tale fragrance. A few days ripening on the counter might have changed that, but instead I opted to bring out their ambrosial flavor with a quick poach.
Poaching softens and intensifies the flavors of not-quite-ripe fruit. A little heat was all that was needed to draw out the best in these apricots and concentrate their flavor.
Many recipes for poached fruit call for strong spices that can overwhelm the delicate taste of the fruit. I chose to simmer my apricots in an aromatic syrup made from white wine, vanilla and honey to accent their musky floral taste.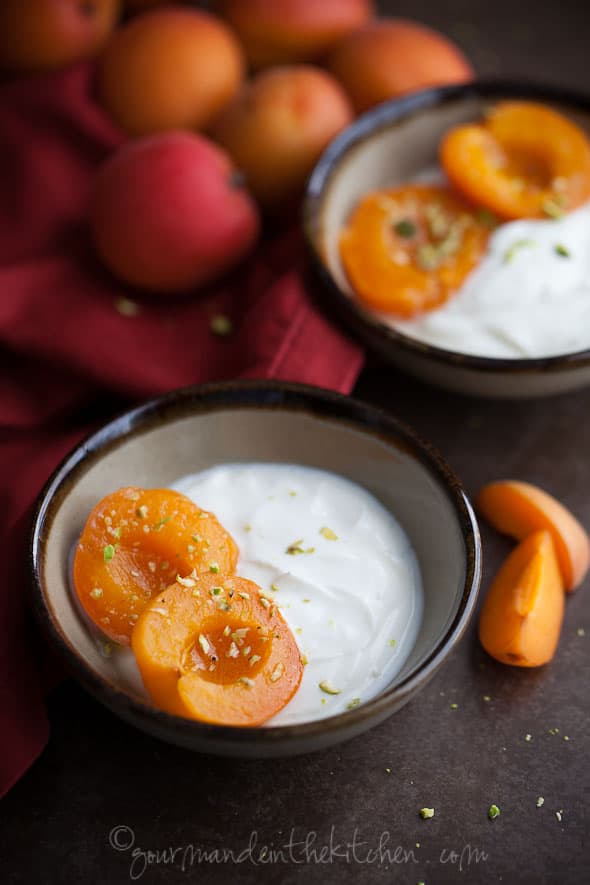 It's not always easy to find perfectly ripe fruit, but when gently poached, they soften and condense in flavor from their time in the heat. Serve them on top of a bowl of rich and extra thick yogurt like Greek yogurt (or crème fraiche if you prefer) and you have a light and easy summer dessert or sweet treat. 
A scattering of chopped pistachios is the perfect finish to these sublime and syrupy apricots.
Honeyed White Wine Poached Apricots with Yogurt and Pistachios
---
Apricots are poached in a white wine syrup and served with yogurt and pistachios for an easy dessert.
30 minPrep Time
15 minCook Time
Ingredients
500ml fruity, floral white wine
1/2 vanilla bean, split lengthwise and seeds scraped
6 tbsp/ about 100g orange-blossom or wildflower honey
8 apricots, halved and stoned
Greek yogurt for serving
¼ cup / 28g raw chopped pistachios
Instructions
Combine wine, vanilla pod and seeds, and honey in a medium saucepan. Simmer over low heat until the honey dissolves.
Add the apricots in one layer pushing down gently, so fruit is submerged.
Simmer gently, turning once, until they are just tender but not falling apart, about 2-5 minutes. (The amount of time depends entirely on the ripeness of the fruit, so keep checking.) Do not overcook as you want the fruit to remain intact.
Using a slotted spoon, transfer the apricots to a dish.
Let remaining liquid simmer over medium-high heat until reduced by half and lightly syrupy, strain.
Allow the apricots and syrup to cool, then refrigerate.
Serve the chilled apricots in a shallow bowl with thick yogurt, top with the pistachios and a teaspoon of the reserved syrup.
Notes
Gluten-Free, Grain-Free, Vegetarian
7.8.1.2
39
https://gourmandeinthekitchen.com/honeyed-white-wine-poached-apricots-with-yogurt-and-pistachios-recipe/
gourmandeinthekitchen.com
What are your favorite summer fruits?