Make your belly happy and treat yourself to a cup of homemade after dinner tea for digestion.
Now that the holidays are behind us, I'd venture to guess that most of us could stand to give our bellies a little extra loving care these days. Whether you indulged more than you anticipated or just ate a few too many things that didn't quite agree with you, the ensuing post-meal discomfort and bloat is never much fun; that's when a tummy-soothing cup of digestion tea can really come to the rescue.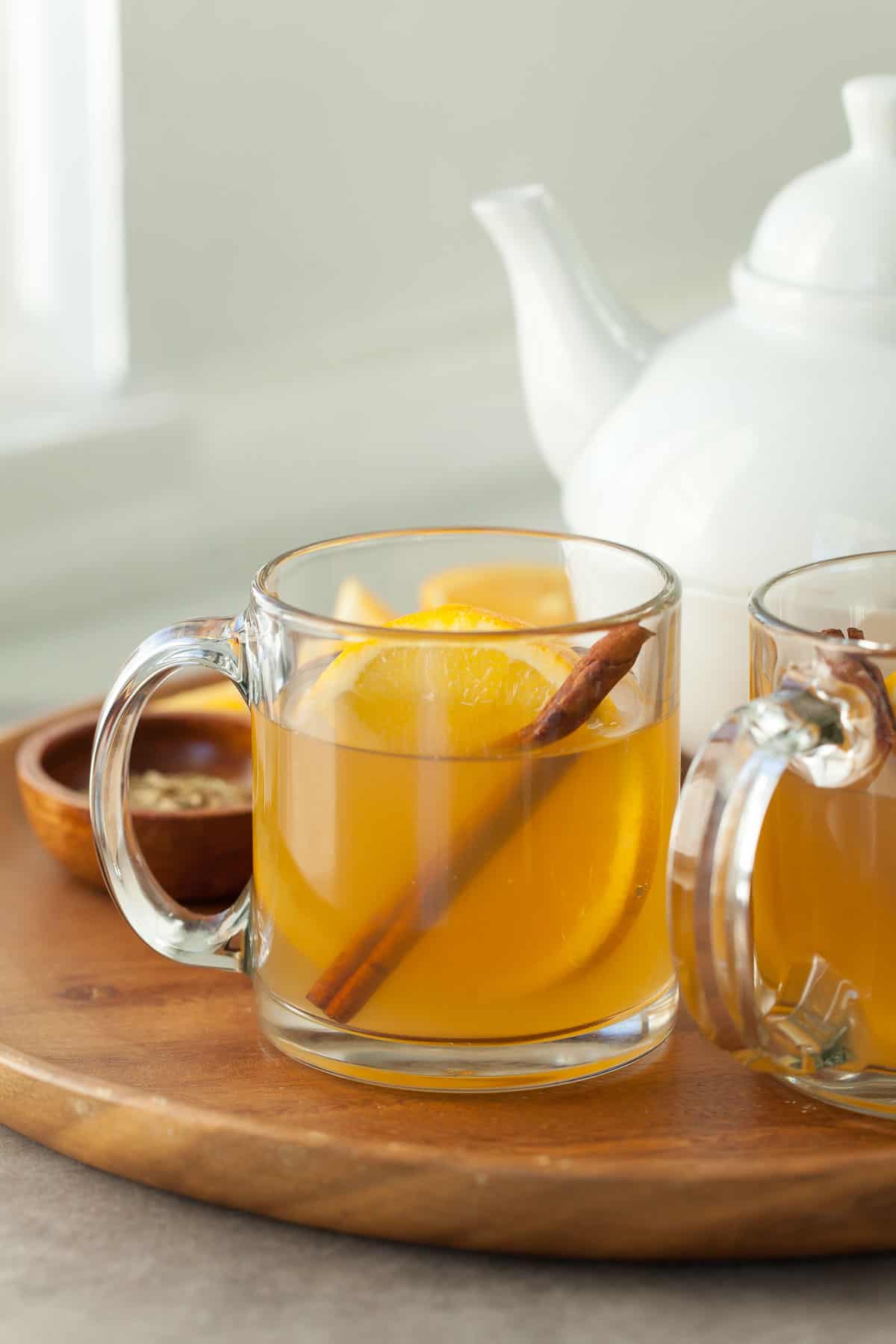 Not just any kind of tea, but a caffeine-free, herbal one that's loaded with digestion friendly ingredients like ginger, fennel, and anise along with cinnamon and orange peel for a sweet and spicy flavor that can help comfort an unsettled stomach.
Even if you haven't crossed the line into the belly blues, brewing up a cup of tea after a meal makes for a soothing ritual that can also support healthy digestion. And yes there are a number of after dinner digestion-type teas you can buy at the store but making your own is always so much fresher, more flavorful and practically effortless, so why not make it at home?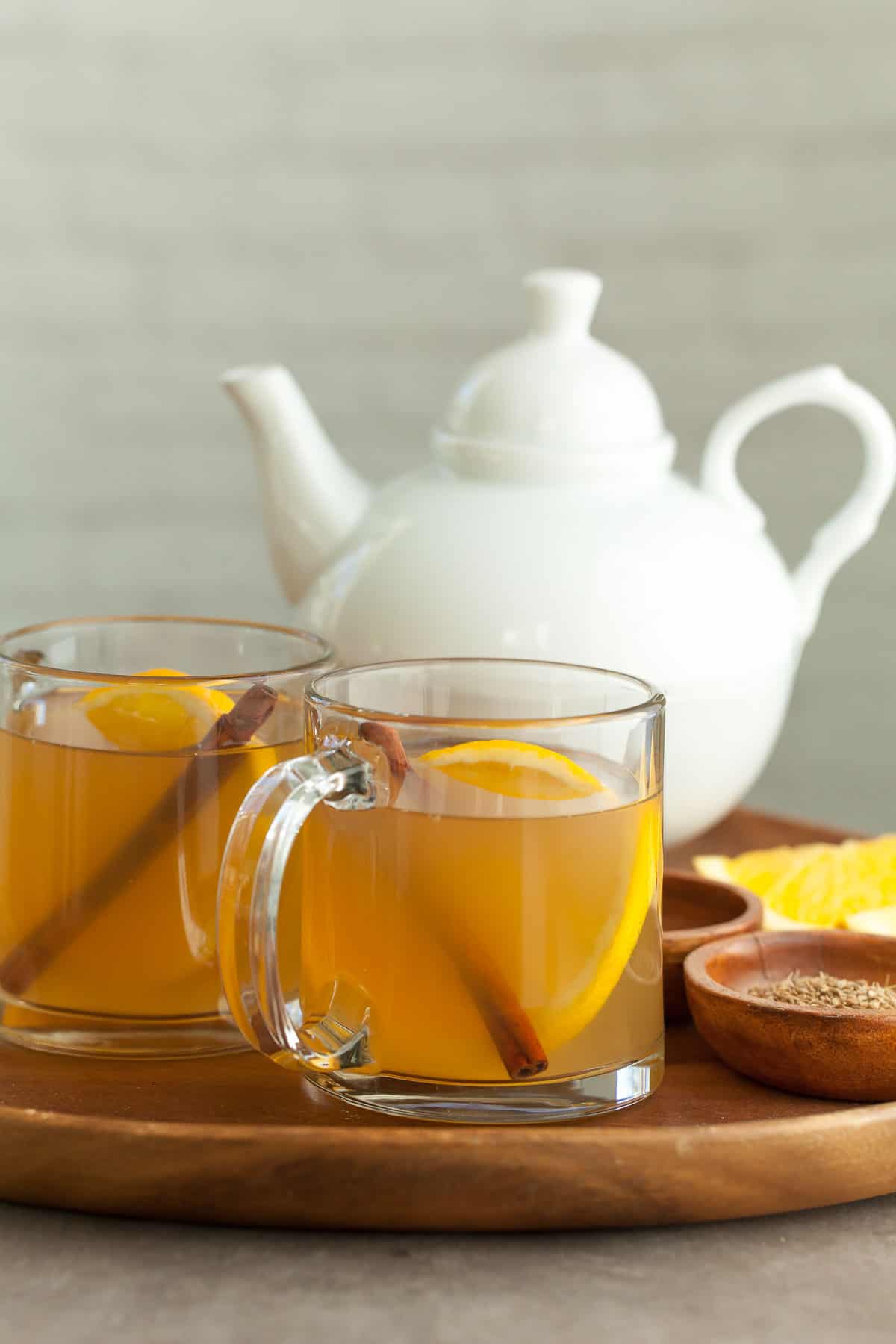 How to make after dinner tea:
I start with fresh grated ginger, and then add crushed anise and fennel seed (which are traditionally used to ease digestive troubles). Crushing the seeds lightly before adding them to the water allows the oils to release and makes for a more potent and flavorful brew.
To that I add a cinnamon stick and a few strips of orange peel. I gently simmer everything for 15-20 minutes then strain, sweeten and serve.
The result is a zesty tea with just enough spice to warm and sooth. It's cozy, cinnamony and just right for curling up with after dinner.
I'll also make a big batch of tea then store it in the fridge and re-heat it after a meal or whenever I need a cup.
So make your belly happy and treat yourself to a cup of homemade after dinner digestion tea.
More caffeine-free teas:
Yield:

2 Servings
After Dinner Tea for Digestion
Make your belly happy and cozy up to a big mug of digestion tea after dinner.
Ingredients
2 cups/ 500ml filtered water
½ a cinnamon stick
Strips of zest from ½ a small orange
1-inch piece of ginger, peeled and finely grated
Sweetener of choice to taste
orange slices and cinnamon stick for serving if desired
Instructions
Combine all the ingredients in a small saucepan and bring to a gentle simmer, lower heat and keep at a bare simmer (just a couple bubbles around the sides of the pan) for 10 minutes.
Turn off heat, cover and let steep for 5 minutes. Strain tea through a fine mesh strainer, sweeten to taste and serve hot with orange slice and cinnamon stick if desired.
Recommended Products
As an Amazon Associate and member of other affiliate programs, I earn from qualifying purchases.
Nutrition Information:
Yield:
2
Serving Size:
1
Amount Per Serving:
Calories:

11
Sodium:

1mg
Carbohydrates:

2g
Sylvie Shirazi is the recipe developer and food photographer behind Gourmande in the Kitchen. For the last 10 years she's been making eating more healthfully easy and accessible with gluten-free, grain-free, paleo and vegan recipes that are free from processed ingredients.