Skewers of mango and cucumber dressed with fresh chili, lime and salt are an utterly refreshing collaboration of salty, sweet, tart and spicy tastes. 
Here's a fun fact: Did you know that mangoes are the bestselling and most consumed fruit worldwide?  It seems the intoxicating taste and scent of juicy, ripe mangoes has captured the attention of people across the globe and I for one am not immune to their enchanting spell.
The fragrant, almost floral, scent of mangoes hints at the delicate, silky flesh with a honey-like sweetness that awaits you with each bite.  Personally I find them pretty hard to resist; and while perfect in their own right they also make a fabulous partner to more savory flavors.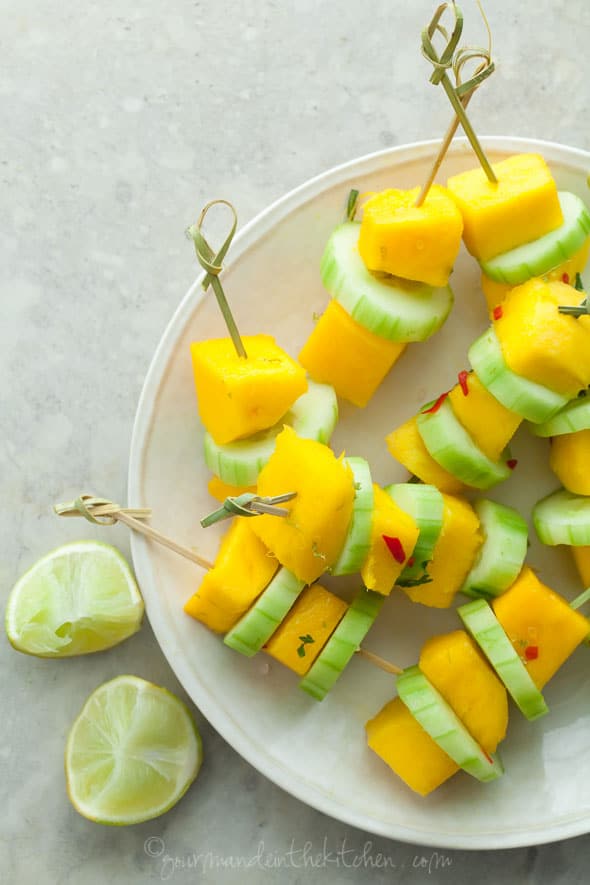 Chunks of crunchy cucumbers offer a nice contrast to the soft, juicy mango pieces.  A generous squeeze of lime and pinch of coarse sea salt compliments the natural sweetness of the fruit while the heat from the chilies spices things up and a sprinkle of freshly chopped mint offers a cooling counterpoint.
A little drizzle of peppery olive oil helps to round out the flavors in the dish and supplies a bit of fat to help better absorb all the vitamins.
If you like things spicy, feel free to add more chili peppers. I've used Thai chilies here whose diminutive size often belie their potent punch so start with one and adjust to taste.  When picking your mango, choose one that gives gently to pressure and smells sweet.  You're looking for one that's ripe but not overly so since you'll be cutting it into cubes.
Easily assembled, these spicy cucumber mango salad skewers make for a quick snack or appetizer.  A simple pleasure during a season meant for bright, fresh fare.
What's your favorite way to eat mangoes?
Serves makes about a dozen small skewers
Spicy Mango Cucumber Salad Skewers
---
Easily assembled, these spicy cucumber mango salad skewers make for a quick snack or appetizer
15 minPrep Time
30 minTotal Time
Ingredients
The juice of two small limes (plus extra for serving)
The zest of one lime (plus extra for garnish)
2 Tablespoons/ 30 ml extra virgin olive oil
1-2 small Thai (or other similarly hot) chili pepper, seeds removed and finely chopped
Coarse sea salt to taste
1 long seedless English cucumber, peeled and sliced
1 large ripe mango, peeled and cut into cubes
1-2 Tablespoons fresh chopped mint
about 12 small Skewers
Instructions
Whisk lime juice, lime zest, oil, and chopped red pepper in a large shallow dish until combined. Season with salt to taste.
Add the cucumber and mango and gently toss to coat. Chill and marinate for at least ½ an hour to allow the flavors to develop.
When ready to serve, thread the cucumber and mango pieces onto skewers in an alternating fashion. Sprinkle with extra lime zest, fresh mint and sea salt and serve garnished with cut limes on the side, if desired.
Notes
Gluten-Free, Grain-Free, Vegan, Raw, Paleo
7.8.1.2
141
https://gourmandeinthekitchen.com/spicy-mango-cucumber-salad-skewers/
gourmandeinthekitchen.com