These three colorful vegetable juices are an easy way to make juicing a habit this year.
The aftermath of the holiday season hit me hard; I have just started to rouse from the post-holiday haze.
December is certainly a month of activity; a frenzy of feasts, festivities and family that flies by in a flash.  The next thing I knew 2013 had arrived and I was overcome by a desire to hole up, hibernate and recharge.
Frankly, the closest couch and a good nap were in order.  Well, that and something fresh and liquid; a respite from the excesses of December.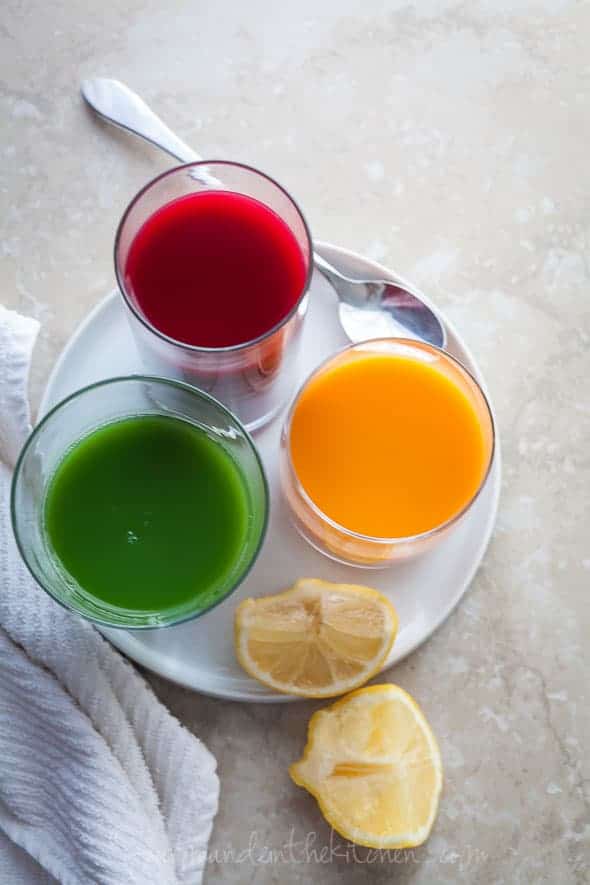 Whether you are new to juicing, or an old pro, the start of the New Year is certainly the season for it.  When you're feeling a strong urge to eat clean and re-energize, no supplement is a match for the vitamins, minerals and nutrients found in whole foods like vegetables.
One of the most frequently asked questions about juicing is "why not eat your vegetables instead of juicing them?"  The problem is that most of us just don't eat enough of them and juicing is an easy way to increase your intake.  That doesn't mean you shouldn't eat them, it means you should do both if you can.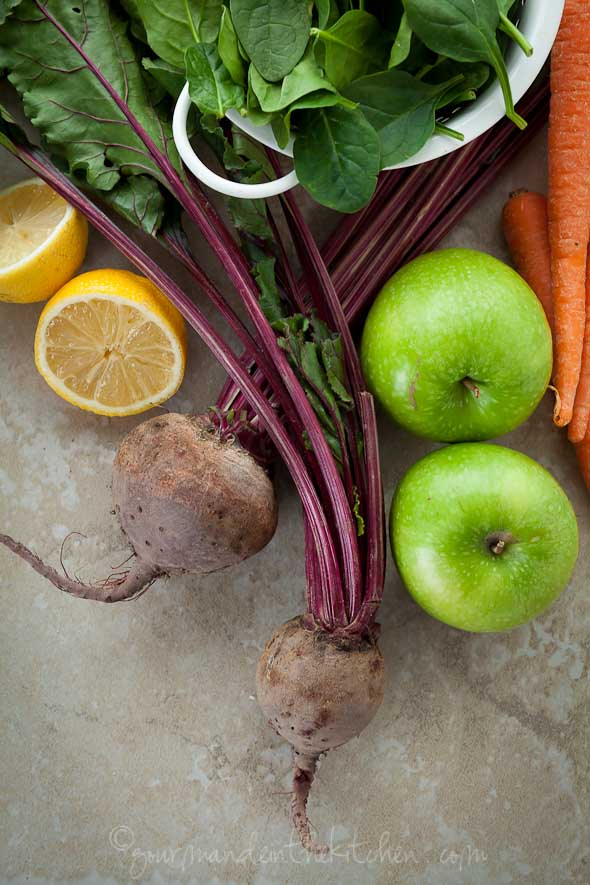 Store bought juices are not the same thing; most are laden with added sugars and preservatives, those that aren't have most likely been pasteurized.  Manufacturers pasteurize juices to prevent spoilage, but the process of heating the juice can destroy the availability of some of the vitamins and enzymes so fresh, raw juices are best.
Drinking freshly pressed vegetable juices along with eating a variety of vegetables provides our bodies with an abundance of raw materials and nutrients from which to thrive.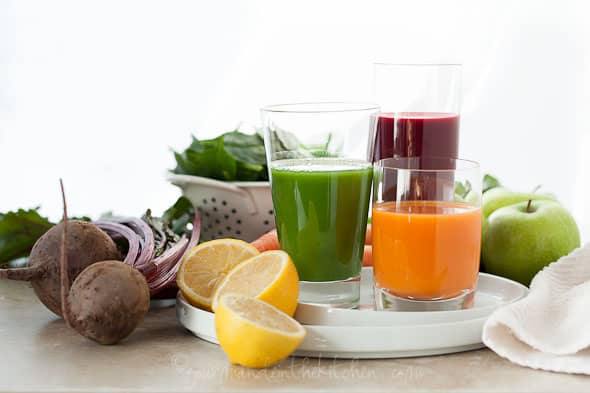 Green juices are king when it comes to juicing as they are both nutrient rich and low in sugar, but if you are hesitant to plunge into green drinks, root based juices are a naturally sweeter alternative that still pack a nutritional punch.  Start with carrot juice and gently ease your way over to spinach juice and other leafy greens.
These three colorful juices are an easy way to make juicing a habit this year.
Pea Shoot and Spinach Juice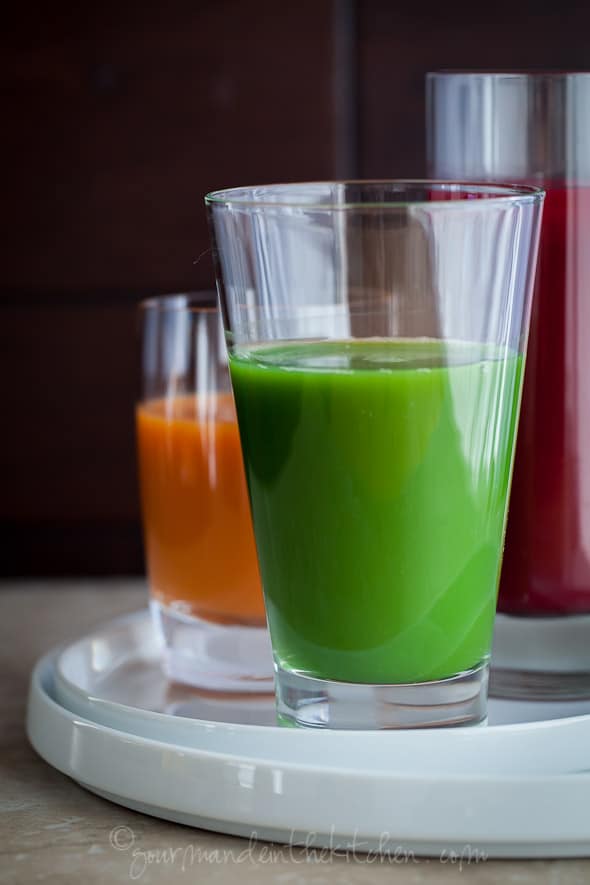 [amd-zlrecipe-recipe:37]
Beet and Sweet Potato Juice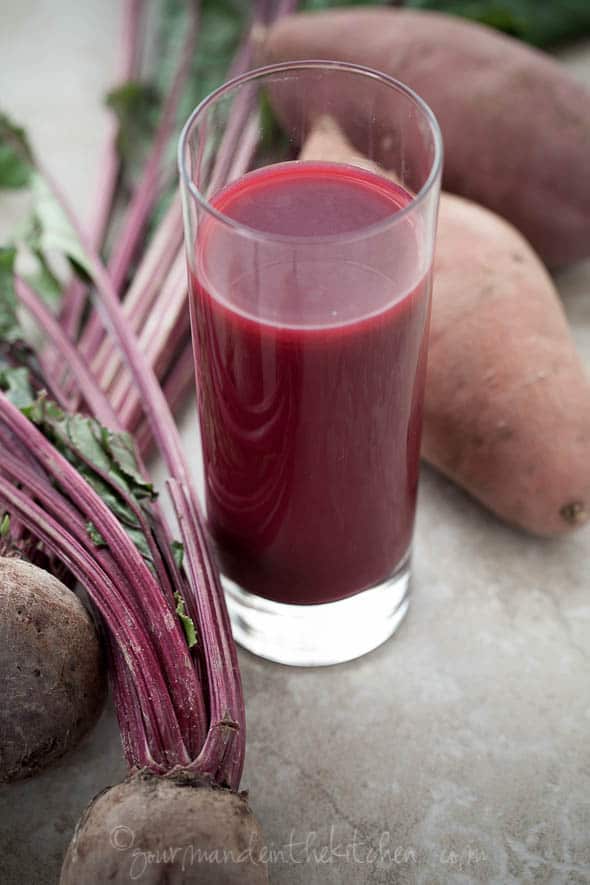 [amd-zlrecipe-recipe:38]
Carrot Kohlrabi Juice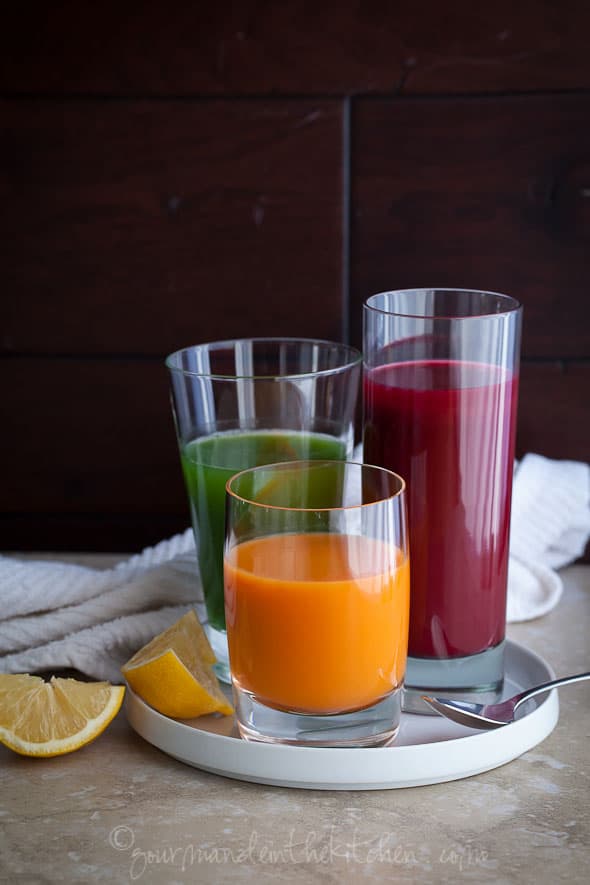 Carrot Kohlrabi Juice
---
Kohlrabi belongs to the cabbage family of vegetables, is high in vitamin C and contains a good amount of B vitamins as well.
Ingredients
6 carrots, scrubbed
2 small or 1 large kohlrabi, scrubbed and peeled
Instructions
Chop everything into chunks that fit into the juicer chute.
Pass all the ingredients through the juicer, alternating ingredients.
Strain through a fine mesh strainer to remove foam if desired.
Pour juice into ice-filled glasses and serve immediately.
Notes
Gluten Free, Grain Free, Paleo, Vegan, Raw
7.8.1.2
66
https://gourmandeinthekitchen.com/raw-vegetable-juice-recipes/
gourmandeinthekitchen.com
Cheers to good health!  Do you juice?
(More tips on juicing.)