Quick pickled vegetables take virtually no effort and keep for weeks in the fridge.
I'm not sure why it's taken me quite this long to get around to telling you about these, but I seem to have caught the pickling bug.
I find myself eyeing the produce, pondering what might take well to pickling.  I started with radishes, then carrots got their turn, lately it's asparagus that's caught my eye.
Crunchy, vinegary and entirely mouth-puckering, I've been munching on quick pickled vegetables for weeks now and have yet to tire of them.
While "real" pickling (the kind that requires processing) can be a bit of a time consuming endeavor, a quick pickle takes virtually no effort and produces tangy, crisp vegetables that keep for weeks in the fridge.
Having a couple jars on hand means you'll always have something to serve as an appetizer or with a cocktail before dinner.  (Although I have to admit most of mine have been eaten straight from the jar standing in front of the refrigerator.)  They also make a nice addition to a crudité platter accompanied by a handful of marinated olives or a few slices of cheese.
First a quick blanch ensures that the vegetables absorb the pickling liquid and allows the pickles to develop more flavor as they rest and marinate.
After that, a mixture of hot vinegar and spices is poured over, submerging the vegetables in a hot bath that will be their home for the next few weeks while they are safely tucked away in the fridge doing their thing.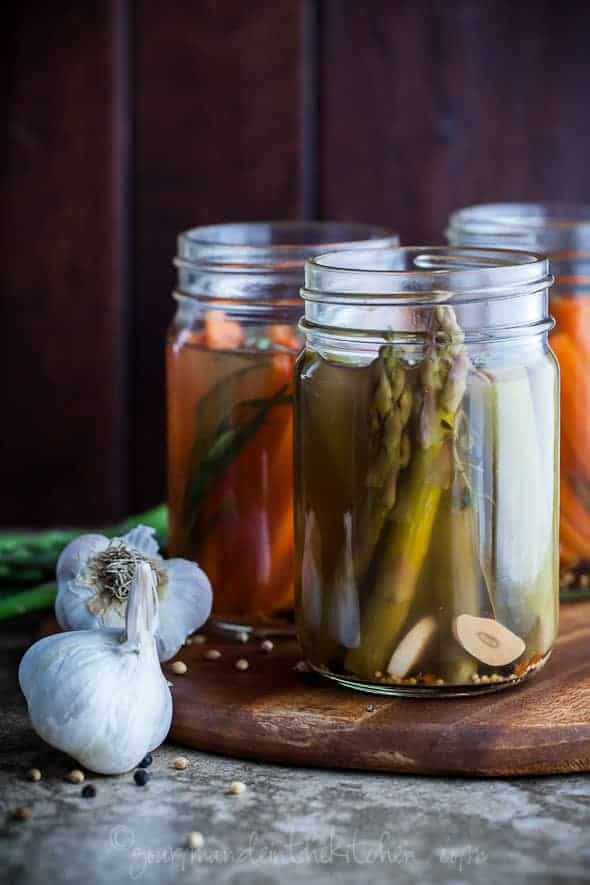 While they are ready to eat after a 24 hour rest in the fridge, patience is a virtue when it comes to pickling and a week's rest will reward you in kind.
Have you ever pickled vegetables?
Yield:

3 to 4 jars
Quick Refrigerator Tarragon Pickled Carrots and Asparagus
Quick pickled carrots and asparagus flavored with tarragon and other spices.
Ingredients
1 pound carrots, peeled and sliced into sticks that will fit your jars
1 pound asparagus, bottoms trimmed and cut to fit jars
2 cups filtered water
2 cups apple cider vinegar
2 Tablespoons raw honey (optional)
4 to 6 sprigs of fresh tarragon
4 garlic cloves, thinly sliced
4 small bay leaves
2 teaspoons sea salt
1 teaspoon peppercorns
1 teaspoon mustard seeds
1 teaspoon coriander seeds
Instructions
Prepare jars:
Clean, 4 12 oz glass jars with screw on lids (you may need more or less depending on the shape of your particular jars so prepare more than you need) by boiling in water, or run through sanitize cycle of the dishwasher.
Blanch carrots and asparagus:
Bring 2 to 3 inches of water to a boil in a large sauté pan and add cut vegetables to water for one minute. Pour into a colander and rinse under cold water or place in an ice bath to stop the cooking. Drain and set aside.
Make pickling brine:
Combine water, vinegar and remaining ingredients in a saucepan and bring to a boil.
Meanwhile pack carrots and asparagus tightly into clean jars. There should be enough for 4 medium jars or more smaller jars.
Pour warm pickling brine to cover vegetables distributing the spices and herbs evenly between the jars leaving about ½ an inch space at the top. Wipe rims and screw on lids.
Let cool on counter until cool to the touch. Place in refrigerator and allow flavors to develop for at least 24 hours before opening (preferably 3 days for best flavor).
Keeps well chilled for about one month.
Notes
Gluten-free, Grain-free, Vegetarian, Vegan (omit honey), Paleo
Nutrition Information:
Yield:
4 jars
Serving Size:
1 jar
Amount Per Serving:
Calories:

133
Total Fat:

1g
Saturated Fat:

0g
Trans Fat:

0g
Unsaturated Fat:

0g
Cholesterol:

0mg
Sodium:

1151mg
Carbohydrates:

26g
Fiber:

6g
Sugar:

15g
Protein:

4g
Nutritional information for recipes contained on this website, such as calories, fat, carbs, etc. are only estimates and are not guaranteed to be accurate.
Sylvie Shirazi is the recipe developer and food photographer behind Gourmande in the Kitchen. For the last 10 years she's been making eating more healthfully easy and accessible with gluten-free, grain-free, paleo and vegan recipes that are free from processed ingredients.