This fall-inspired, spiced plum apple compote couldn't be simpler to prepare, just a handful of ingredients and 15 minutes are all you need.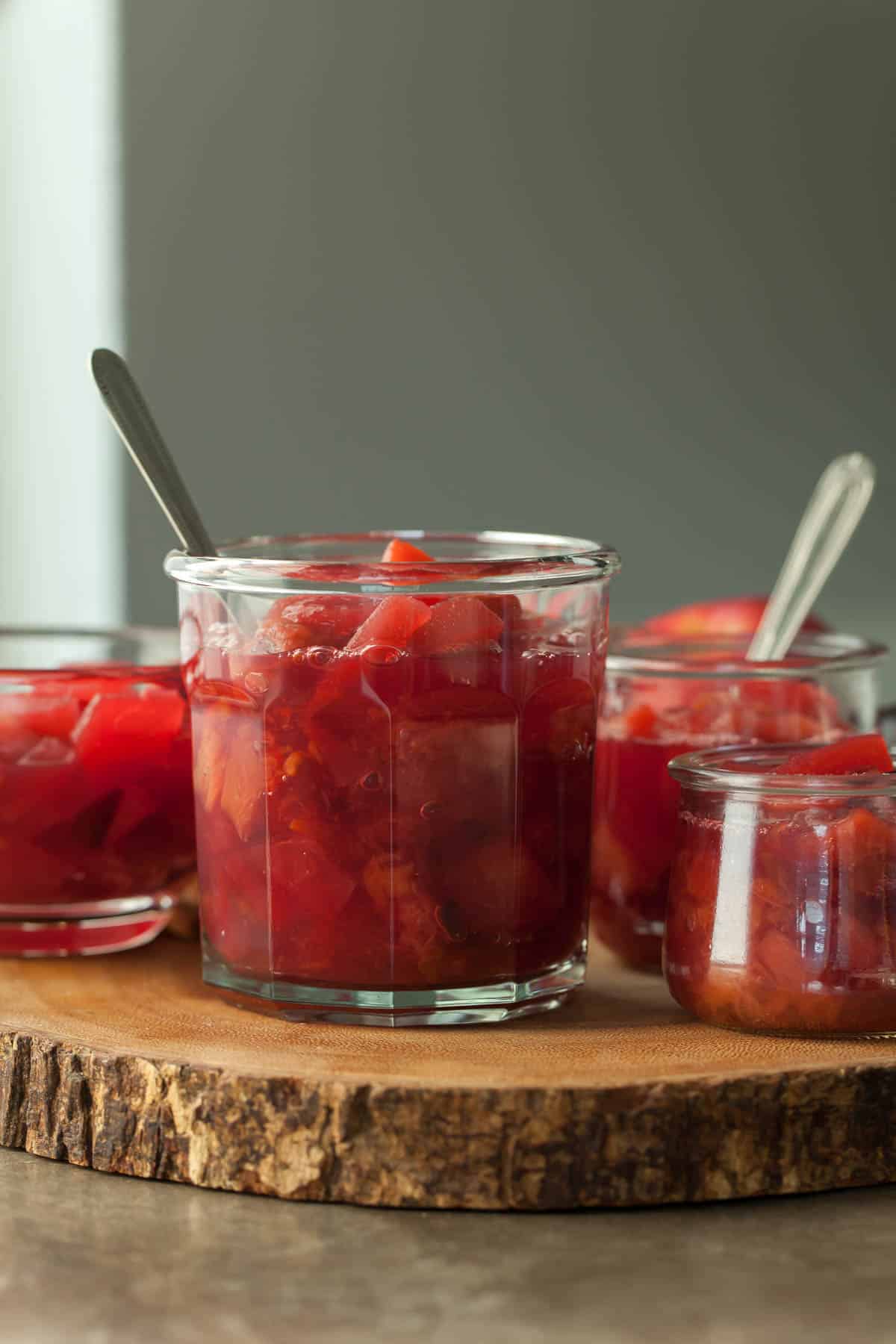 The shift from summer to fall has always been the hardest for me, more so than any other change in season during the year. I hate to say goodbye to those long sun-filled summer days, yet the sun is already starting to set much earlier and the evenings cooling off more quickly than they did even a few short weeks ago. Luckily I still have plums.
In season from summer through early fall, plums ease us gently into the new season with their sweet/tart taste and multitude of colors. They're a taste of summer that lingers into fall, happily coinciding with apple season, which makes them perfect for turning into a fall-inspired plum compote.
If you should find yourself with a large number of plums and apples, you might consider making compote.
What is compote?
While compote originally meant a dessert of fruit (usually whole or halved) cooked in sugar syrup, it's over time come to mean a chunky fruit sauce that's briefly cooked on the stove. Not as sweet as jam and not as runny as syrup, but arguably more useful than both, it's definitely a good thing to have a jar of in your fridge.
How to make plum apple compote:
In general, compote requires nothing but fruit, sweetener and a little liquid to cook it in but tossing a few spices in adds more interesting flavor. I've added fall favorites like maple and cinnamon to my plum apple compote to impart a warm and spicy flavor that's perfect for this time of year.
The apples are peeled and sliced into bite sized pieces while the plums are left with their skins on which imparts a lovely rosy hue to the compote.
You simply toss everything into a pot, simmer stirring occasionally, and about 10-15 minutes later, your compote will be ready to serve. It's really that easy!
How to use compote:
Speaking of serving, you can serve compote either warm or chilled. I like to spoon mine over ice cream, pancakes, waffles, or swirl it into yogurt, but I'm sure you'll find lots of other ways to enjoy it as well.
Here's to fall!
More plum recipes to try:
Yield:

4 Servings
Plum Compote
This fall-inspired, spiced plum apple compote couldn't be simpler to prepare, just a handful of ingredients and 15 minutes are all you need.
Ingredients
2 medium apples, peeled and cut in chunks
4 small black or red plums, cut into chunks
¼ cup/60ml maple syrup
1 stick of cinnamon
2 Tablespoons/30ml fresh lemon juice
1 cup/ 240ml filtered water
Instructions
Place apples, plums, maple syrup, cinnamon, lemon juice and water in a medium saucepan and bring to a simmer over medium-high heat.
Reduce heat to low and cover. Cook 10 minutes, uncover and simmer for another 5 minutes until fruit is tender and mixture is syrupy.
Remove pan from heat and allow to cool. Store in fridge until ready to use, compote will keep for up to a week in the fridge.
Nutrition Information:
Yield:
4
Serving Size:
1
Amount Per Serving:
Calories:

75
Total Fat:

0g
Saturated Fat:

0g
Trans Fat:

0g
Unsaturated Fat:

0g
Cholesterol:

0mg
Sodium:

4mg
Carbohydrates:

20g
Fiber:

2g
Sugar:

16g
Protein:

0g
Nutritional information for recipes contained on this website, such as calories, fat, carbs, etc. are only estimates and are not guaranteed to be accurate.
Sylvie Shirazi is the recipe developer and food photographer behind Gourmande in the Kitchen. For the last 10 years she's been making eating more healthfully easy and accessible with gluten-free, grain-free, paleo and vegan recipes that are free from processed ingredients.