A creamy and cooling chilled cucumber yogurt soup to help escape the heat.
The soup I have for you today is the ideal starter on a hot day when you're in dire need of both refreshment and nourishment.  It's a no-cook soup that's super simple to make and a hot weather favorite of mine.
It's cooling properties lies in the combination of cucumbers, yogurt and mint.  The refreshing trio is whisked together along with a few other savory and sweet additions to make a cold, creamy and slightly tart soup that's pretty irresistible on days when the temperatures are steadily rising.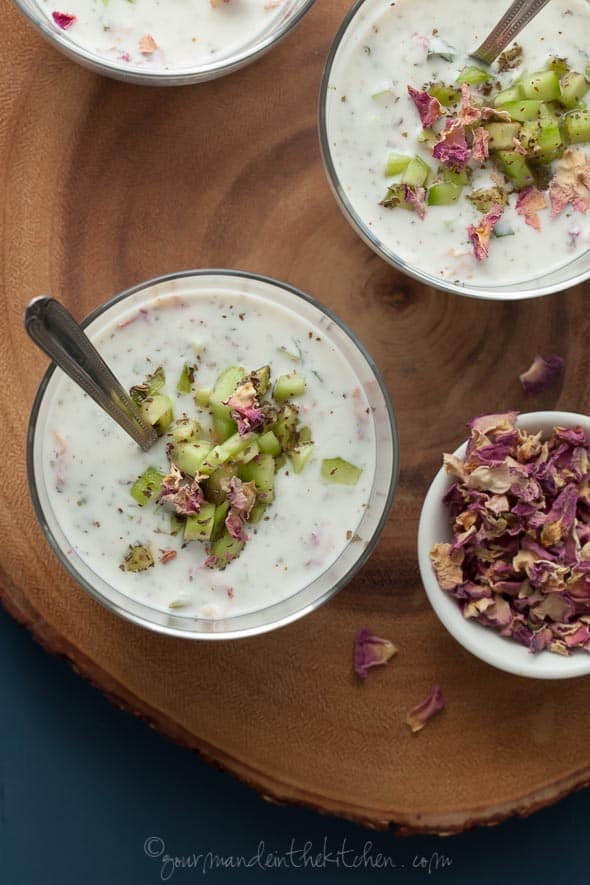 I don't know if I'd go so far as to call a cold soup comforting, but it certainly is refreshing and rejuvenating.  This is the kind of soup you can make all summer long since it only takes a few minutes to whisk together.
Similar to tzatzki,  raita or mast-o-khiar, you need to start with a great yogurt, one that's creamy and tart but not too tangy.  To that you add very finely chopped cucumber, and both dried and fresh mint for a dual layer of flavor.  Dried golden raisins add a touch of sweetness, while sprouted watermelon seeds bring a lovely nuttiness.
I like to add a drop of rosewater to the soup and a few crushed dried rose petals but you can leave them out if you can't find them.  A few tart dried cherries sprinkled on at the end add a nice pop of color as well.
Serve it in a bowl, or a small glass as a soup shooter.  And if you don't have the time or patience to chill the soup, you can always add ice cubes instead of water and let them cool everything down as they melt.  It's the perfect accompaniment to any meal, every spoonful a refreshing blend of both savory and sweet and I do hope you'll try it.
Persian Style Cucumber Yogurt Soup
---
A creamy and cooling chilled cucumber yogurt soup to help escape the heat.
Ingredients
2 cups/ plain yogurt (I like goat's milk yogurt here)
½ – ¾ cup/ 120ml to 180ml ice water (depending on how thick your yogurt is)
3 small Persian cucumbers, peeled, seeded and finely diced
1/4 cup finely chopped fresh mint
1 Tablespoon dried mint
¼ teaspoon rose water (optional)
¼ to ½ tsp sea salt to taste
Freshly ground pepper to taste
¼ cup/ 40g golden raisins
¼ cup/28g sprouted watermelon seeds or toasted chopped walnuts
1-2 Tablespoons dried rose petals , crushed (optional)
1-2 Tablespoons dried tart cherries for garnish (optional)
Instructions
In a large bowl, whisk the yogurt with enough ice water to get a loose but not runny consistency.
Stir in the finely chopped cucumber, both kinds of mint and rosewater if using and season with salt and pepper to taste.
Gently stir in the golden raisins and sprouted watermelon seeds or walnuts. Cover and refrigerate until very cold (at least an hour).
Stir and add extra ice water to thin if necessary.
Serve in bowls, sprinkled with the dried rose petals and tart cherries.
Notes
Gluten-Free, Grain-Free, Vegetarian
7.8.1.2
180
https://gourmandeinthekitchen.com/persian-style-cucumber-yogurt-soup/
gourmandeinthekitchen.com