Maple syrup and cinnamon add a rich warm flavor while toasted chopped almonds add crunch to these entirely refined sugar-free meringues.
A good meringue is a beautiful thing; light as air, every bite a cloud of sweetness.
Rugged on the outside with airy interiors, the delicate shell gives way to a fluffy tender melt-in-your-mouth center. Deceptively simple, these ingenious little cookies are so much more than the sum of their parts and a timeless classic.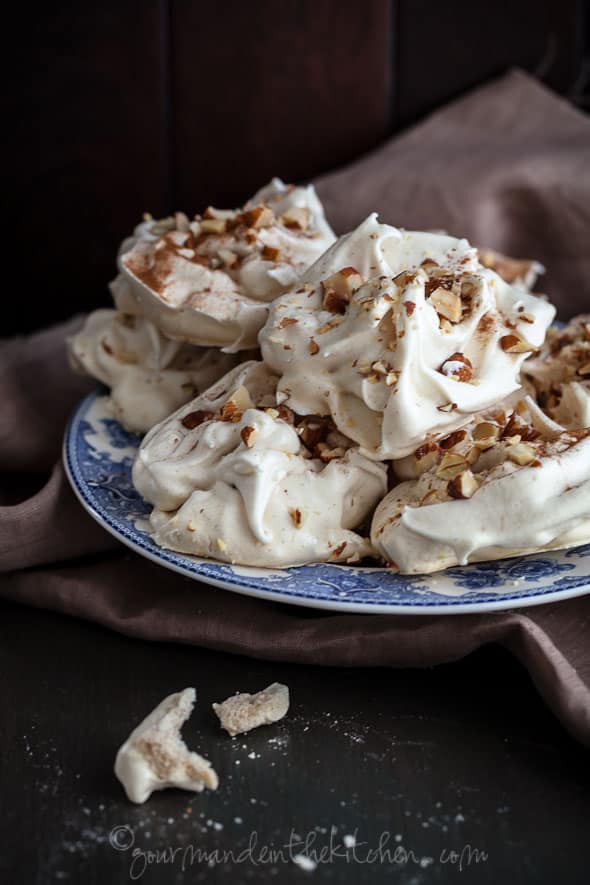 At its most basic, meringue is a combination of egg whites and sweetener in a ratio of 1:2 but the fun comes in the little extras that take a somewhat plain jane cookie to the ranks of delicious confection. A shower of shaved chocolate, a splash of good vanilla or rum, or a few pinches of cinnamon are all good contenders.
Now there are three different ways to conquer egg whites and make meringue: French, Swiss and Italian.
The French method is perhaps the most common and consists of slowly adding spoonfuls of sweetener to egg whites while simultaneously whipping until a smooth and glossy texture emerges. Italian on the other hand involves a cooked sugar syrup poured into egg whites, but Swiss is the method I chose for this recipe because of its stability and ease.
Here's the general idea: maple syrup replaces traditional white sugar making these particular meringues entirely refined sugar free and a more wholesome option than traditional ones. It also adds a richness of flavor and pale amber hue while the cinnamon gives a bit of spice.
The egg whites and maple syrup are gently heated over a pot of simmering water before being whipped until stiff and shiny then generously scooped onto baking sheets, topped with chopped almonds, a pinch of sea salt and left to dry in a rather cool oven for about 2 hours (meringues aren't so much baked as they are dried out.)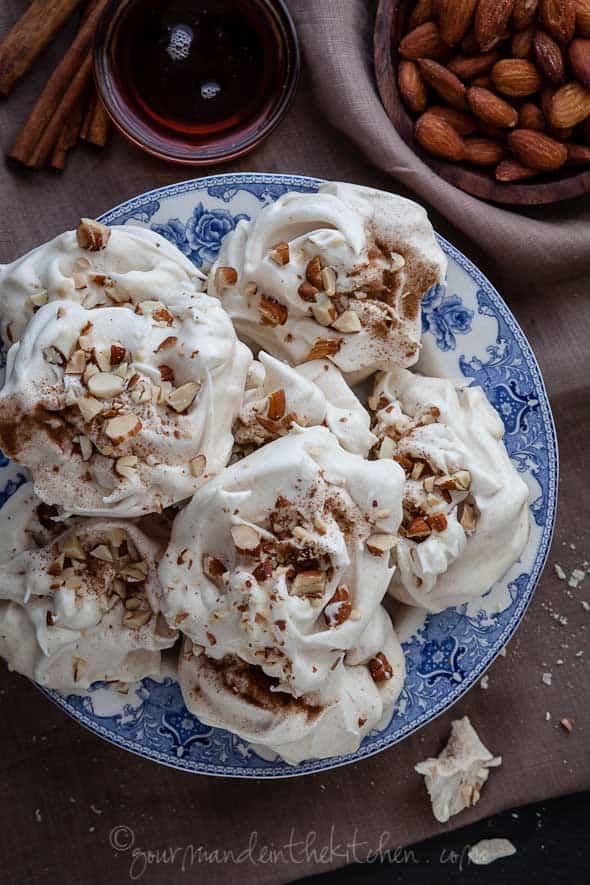 The result is a sheet full of large, somewhat misshapen clusters that are ethereally light and utterly addicting.
Have you ever made meringue?
Yield:

12 large or 24 smaller meringues
Maple Cinnamon Meringue Cookie Recipe with Salted Toasted Almonds
Total Time:
2 hours
30 minutes
Melt in your mouth meringues flavored with maple syrup, cinnamon and salted toasted almonds.
Ingredients
4 large egg whites (120grams)
1 cup/240ml maple syrup
¼ teaspoon cream of tartar
¼ teaspoon sea salt
1 teaspoon cinnamon (preferably Celyon), plus more for dusting
½ cup/56 grams almonds, toasted and coarsely chopped
Sea salt for sprinkling
Instructions
Preheat oven to 200 degrees. Line two baking sheets with parchment paper; set aside. In a saucepan, bring 1 to 2 inches water to a simmer.
In a mixer bowl combine egg whites, maple syrup, cream of tartar, salt and set over pot of simmering water; stirring until mixture is warm, about 2 to 3 minutes.
Remove bowl from heat and beat mixture with the whisk attachment on medium-high speed until stiff, glossy peaks form, about 5 to 7 minutes. The meringue should be firm and glossy and keep its shape.
Gently fold in cinnamon powder with a spatula.
Drop meringue mixture with two tablespoons in generous amounts onto prepared baking sheets, spacing about 1 inch apart or transfer the meringue to a piping bag fitted with a pastry tip and pipe onto baking sheet. Top each mound with chopped toasted almonds and dust with additional cinnamon. Sprinkle tops of meringues with a pinch of sea salt.
Bake until dry, about 1 ½ to 2 hours rotating the sheets half way through.
Turn oven off and cool completely on baking sheets inside oven. (You can leave them in the oven overnight)
Meringues can be stored in an airtight container at room temperature up to a week.
Notes
Gluten Free, Grain Free, Vegetarian, Paleo
Nutrition Information:
Yield:
24
Serving Size:
1
Amount Per Serving:
Calories:

52
Total Fat:

1g
Saturated Fat:

0g
Trans Fat:

0g
Unsaturated Fat:

1g
Cholesterol:

0mg
Sodium:

69mg
Carbohydrates:

10g
Fiber:

0g
Sugar:

8g
Protein:

1g
Nutritional information for recipes contained on this website, such as calories, fat, carbs, etc. are only estimates and are not guaranteed to be accurate.
Sylvie Shirazi is the recipe developer and food photographer behind Gourmande in the Kitchen. For the last 10 years she's been making eating more healthfully easy and accessible with gluten-free, grain-free, paleo and vegan recipes that are free from processed ingredients.