Cherry tomatoes are roasted until juicy and bursting with flavor then served over a bed of garlic and herb spaghetti squash.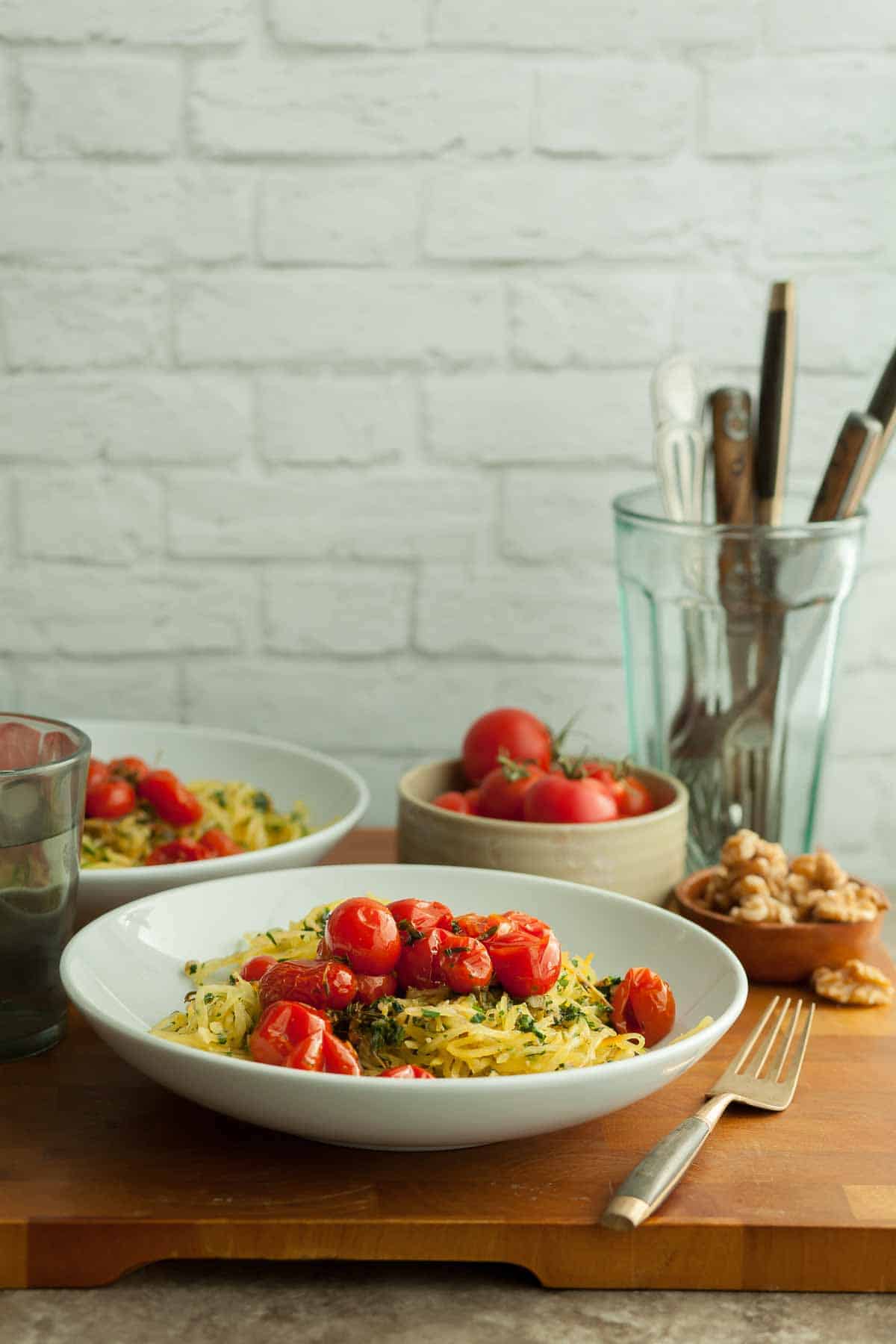 It's that time of year again when pumpkin mania begins, everywhere you turn its pumpkin this and pumpkin flavored that. And while I do love a good pumpkin treat, there's lots of other squash to explore and enjoy this season besides pumpkin, like this spaghetti squash with roasted tomatoes.
Although often forgotten, spaghetti squash is one of the most versatile types of squash and one of my favorites for putting together an easy weeknight dinner. Unlike its cousins, butternut or acorn squash, which need little else other than a splash of olive oil and a sprinkle of salt spaghetti squash does need a little coaxing to bring out its best side.
I like to dress mine up with lots of fresh parsley, garlic, walnuts and olive oil, and then top the whole thing with flavor-packed oven roasted cherry tomatoes for a satisfying meal that's mostly a hands-off affair.
How to cook spaghetti squash:
Although there are a number of ways to prepare it, I prefer to roast my spaghetti squash. Roasting is easy and imparts a sweet, lightly toasted flavor that other methods like the microwave or slow cooker just do not. The strands also come out tender not soggy like some other methods where the squash is steamed instead of roasted. The only tricky part is cutting through the tough outer skin, but the bit of extra work will reward you with greater flavor and texture.
Once cut into rings the squash is lightly rubbed with olive oil and seasoned with salt before heading into the oven on a sheet pan. While that roasts I prepare my tomatoes.
How to make oven roasted cherry tomatoes:
Roasting cherry tomatoes is even easier that roasting squash as you need not cut them at all. Just a little olive oil, salt, pepper and fresh thyme are all you need to transform ordinary cherry tomatoes into a flavorful topping. The tomatoes are roasted alongside the squash just until they start to burst and collapse.
A fork is all it takes to separate the squash into spaghetti-like strands which are then quickly and gently tossed into a pan with lots of garlic, olive oil, finely chopped walnut and parsley before being topped with the roasted tomatoes and served.
No, it isn't exactly like pasta, but this garlic and herb spaghetti squash with roasted tomatoes doesn't need to be in order to be delicious in its own right.
Spaghetti Squash with Roasted Tomatoes
Cherry tomatoes are roasted until juicy and bursting with flavor then served over a bed of garlic and herb spaghetti squash.
Ingredients
1 small spaghetti squash
3 ½ Tablespoons/52ml extra-virgin olive oil (divided use)
1 teaspoon fine sea salt (divided use)
1 lb/454 g cherry or grape tomatoes
A few sprigs fresh thyme
⅛th teaspoon freshly ground black pepper
2 cloves of garlic, finely minced
¼ cup/30g walnuts, finely chopped
½ bunch of parsley, leaves only, finely chopped
Instructions
Preheat oven to 425°.
Halve squash cross wise and cut into thick rings. Place the rings on half a parchment lined baking sheet; lightly brush both sides with 1 Tablespoon of extra-virgin olive oil and sprinkle with ½ teaspoon of the salt. Roast for 40 minutes (or until tender), flipping pieces halfway through.
While the squash is roasting, toss cherry tomatoes with thyme, 1 Tablespoon oil, another ¼ teaspoon of salt and ⅛th teaspoon of black pepper in a medium bowl.
Halfway through the squash cooking time, place tomatoes in oven on other half of the baking sheet and roast until bursting and slumped, (another 20 minutes).
Remove sheet pan from oven and let cool.
When squash is cool enough to handle use a fork to create spaghetti-like strands.
In a large skillet heat remaining 1 ½ Tablespoons of oil along with garlic over medium-low heat. Cook until fragrant (about 1 minute), add walnuts and parsley and cook for an additional 1-2 minutes. Add cooked spaghetti squash and remaining ¼ teaspoon of salt, gently toss to combine.
Place squash on plates or platter and top with roasted tomatoes. Serve warm.
Nutrition Information:
Yield:
4
Serving Size:
1
Amount Per Serving:
Calories:

279
Total Fat:

24g
Saturated Fat:

3g
Trans Fat:

0g
Unsaturated Fat:

20g
Cholesterol:

0mg
Sodium:

288mg
Carbohydrates:

18g
Fiber:

3g
Sugar:

10g
Protein:

2g
Nutritional information for recipes contained on this website, such as calories, fat, carbs, etc. are only estimates and are not guaranteed to be accurate.
Sylvie Shirazi is the recipe developer and food photographer behind Gourmande in the Kitchen. For the last 10 years she's been making eating more healthfully easy and accessible with gluten-free, grain-free, paleo and vegan recipes that are free from processed ingredients.