A scoop of cooling, fresh mint granita takes the sweet/tart flavors of watermelon and raspberries to new heights.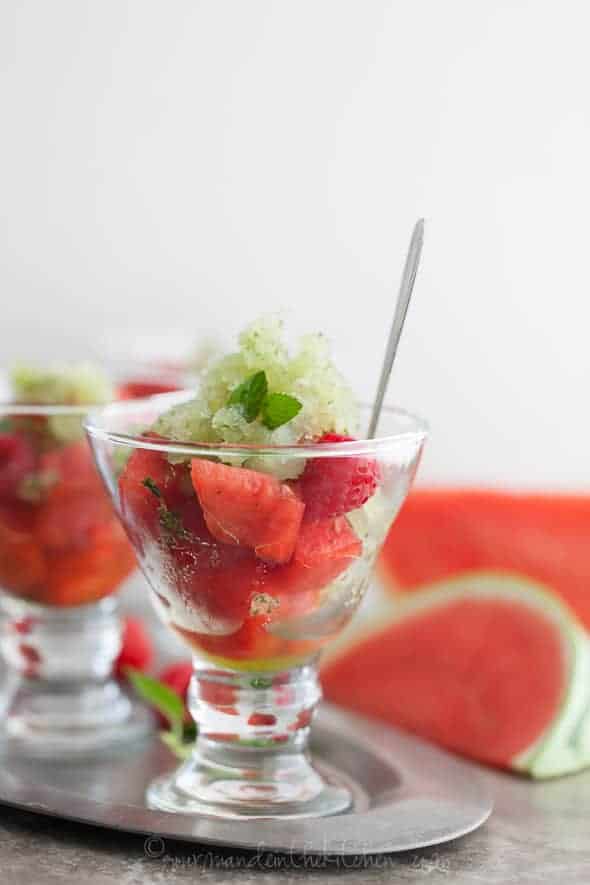 A fresh and frosty treat that's simple yet sophisticated; granitas are the grown-up version of childhood snow cones. Each icy mouthful is pure bliss on a sweltering day.
At its simplest, it can serve as a refreshing palate cleanser between courses; it adds an elegant touch to any meal and never fails to impress. Dressed up a bit it also makes an excellent dessert or afternoon treat on a hot summer day.
Best of all, unlike its smoother cousin, sorbet, it offers the ability to be made without an ice cream machine. Just whizz everything in the blender, then freeze and scrape every so often until you have a mound of flakey ice crystals.
Wonderfully fresh and vibrant, this mint granita is served on top of cubes of juicy watermelon and tart raspberries dressed with a squeeze of zippy lime juice. Its cooling properties really hits the spot when you're craving something light and refreshing.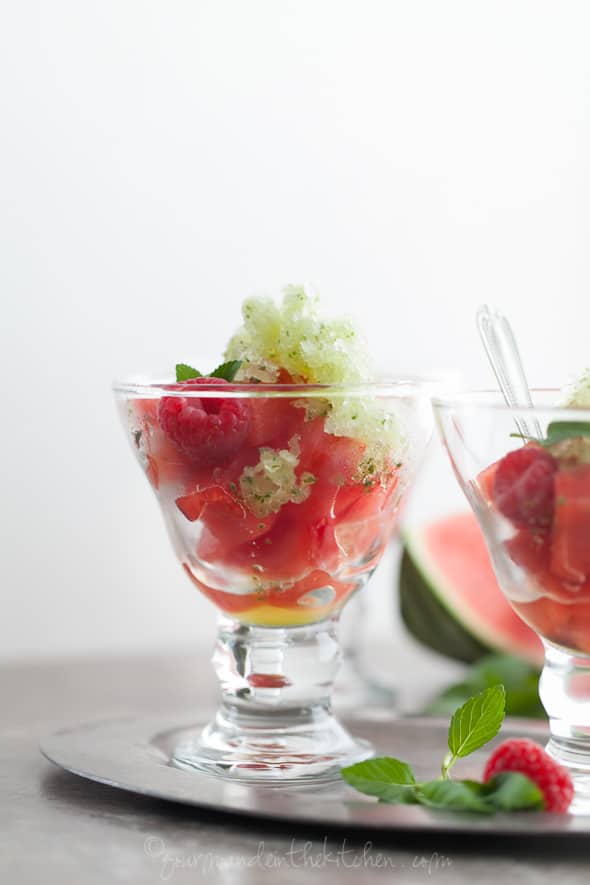 The granita's pure minty sweet taste is extra bold thanks to the inclusion of the whole leaves. Rather than using an infusion as the base, I blend up the fresh mint leaves with the rest of the ingredients leaving little green flecks throughout the finished granita which impart a crisper and cleaner flavor. Top it with a few extra sprigs of mint for a pretty garnish and serve in pre-chilled glasses to keep everything icy cold even longer.
Yield:

4-6 Servings
Fresh Mint Granita
Inactive Time:
2 hours
45 minutes
Mint granita is a fresh and frosty treat that's simple yet sophisticated.
Ingredients
2 cups/480ml filtered water
½ cup fresh mint leaves (plus more for garnish)
3 Tablespoons/63g wildflower honey 
The juice and zest of 1-2 large limes (divided use)
1 small seedless watermelon, cut into cubes
1 pint of fresh raspberries, rinsed and dried
Instructions
In a blender combine the water, mint leaves, honey and the juice of half a lime; pulse on high until combined (you will still be able to see small bits of mint.)
Skim any foam off the top and pour the blended mixture into a shallow freezer safe pan and place it in the freezer.
Remove the pan from the freezer after about an hour and stir to break up the ice crystals. Return to the freezer and repeat every 30 minutes to an hour, until the mixture has turned into even icy flakes and is easy to scoop.
To serve, squeeze the juice of a lime and scatter it's zest over the cut watermelon chunks and divide evenly into glass serving dishes along with the fresh raspberries.
Scoop the granita into the fruit filled glasses and garnish with extra mint leaves. Serve immediately.
Notes
Gluten-Free, Grain-Free, Vegetarian, Raw, Paleo
Nutrition Information:
Yield:
6
Serving Size:
1
Amount Per Serving:
Calories:

166
Total Fat:

0g
Saturated Fat:

0g
Trans Fat:

0g
Unsaturated Fat:

0g
Cholesterol:

0mg
Sodium:

31mg
Carbohydrates:

43g
Fiber:

4g
Sugar:

36g
Protein:

1g
Nutritional information for recipes contained on this website, such as calories, fat, carbs, etc. are only estimates and are not guaranteed to be accurate.
Sylvie Shirazi is the recipe developer and food photographer behind Gourmande in the Kitchen. For the last 10 years she's been making eating more healthfully easy and accessible with gluten-free, grain-free, paleo and vegan recipes that are free from processed ingredients.