Chilled cucumber spears with citrus mint salt is a simple and super refreshing cucumber snack idea that requires minimal effort.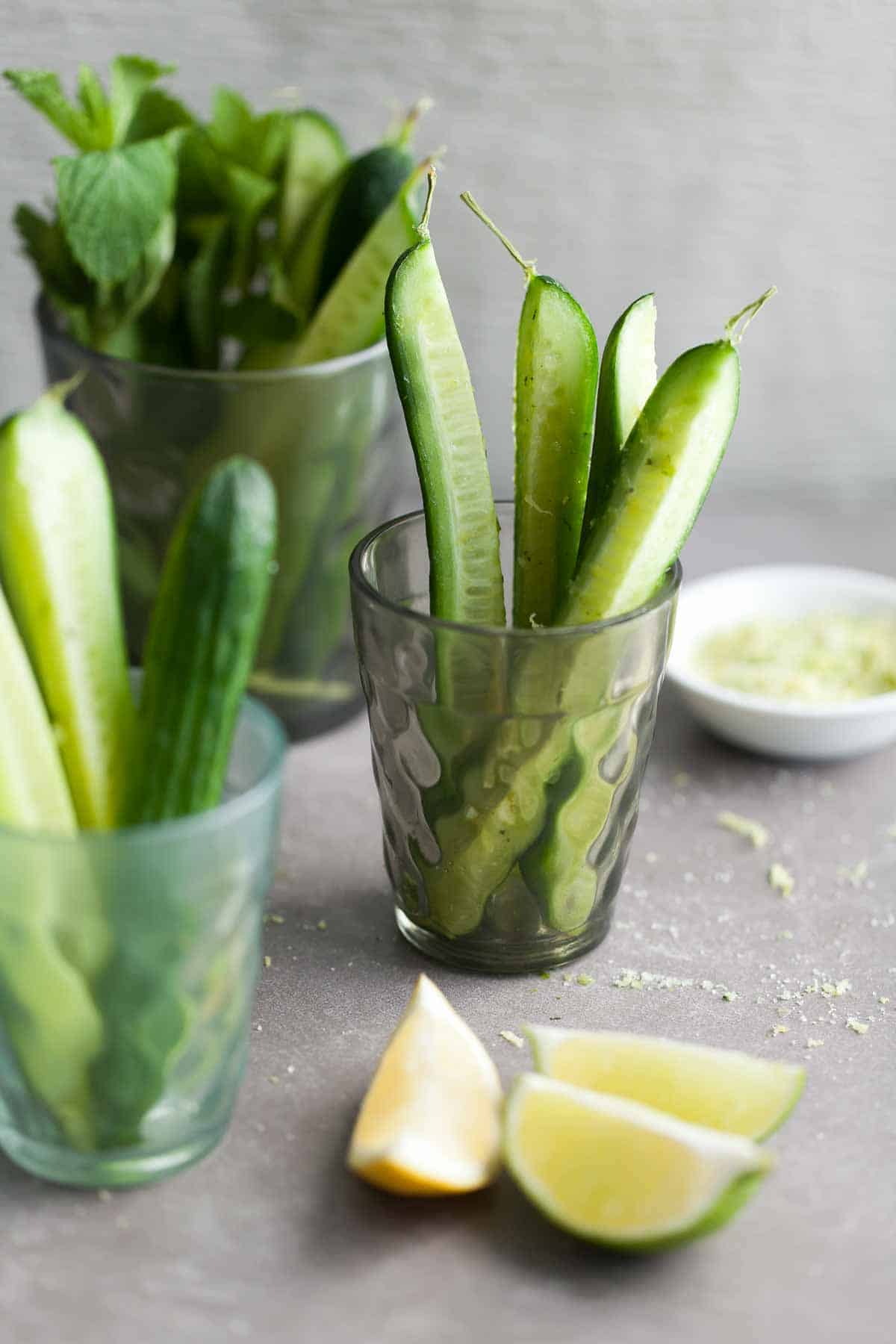 With temperatures still on the sizzling side, I've been making sure to keep well hydrated. You'll usually find me toting around a bottle of water or sipping on iced tea but I've also been munching on some icy snacks to keep cool.
So what I have for you today is not so much a recipe as it is a simple snack idea, that's super refreshing with pretty minimal effort involved: chilled cucumber spears.
Inspired by both Japanese and Mexican street food, I've been making these chilled cucumber spears sprinkled with flavored salt and serving them icy cold. Crisp, cool and crunchy, cucumbers (like watermelon) are mostly water, so they're a natural when it comes to hydration.
Served as just a snack or as part of a meal, they're an unexpected way to keep hydrated when it's hot out. 
How to make salted cucumber spears:
You start by making the flavored salt by grinding citrus zest and/or fresh herbs into sea salt.  That then gets sprinkled over cut cucumber spears and left to sit.  The spears will give off some water and absorb the flavors of the salt mixture, then into the freezer they go for a quick chill to give them an extra cooling crunch.
The salt is the key to transforming the cucumbers from simple crudité to what I like to think of as edible spa water. It's crucial for replacing lost electrolytes and also balances and enhances the flavor of the cucumbers. I like to use a good fleur de sel sea salt with a nice flake and gentle flavor which also contains other essential minerals you won't find in regular table salt.
Borrowing from the Japanese, I'll also skewer them occasionally and serve them on a stick like a popsicle.  It's a fun and unusual appetizer for casual dinner parties or a great afternoon snack on a hot day.  Regardless of how you cut them, each bite is crunchy, salty and utterly refreshing.
More cucumber recipes:
Chopped Zucchini and Cucumber Salad over Salted Yogurt
Yield:

6 Servings
Cucumber Spears with Citrus Mint Salt
Chilled cucumber spears with citrus mint salt is a simple and super refreshing cucumber snack idea that requires minimal effort.
Ingredients
2 teaspoons fleur de sel 
The zest of half a lemon
The zest of half a lime
4-5 fresh mint leaves
6 small Persian cucumbers
Instructions
Combine the salt, lemon and lime zest and mint leaves in a mortar or a food processor. Grind the ingredients with a pestle or pulse until very coarsely crushed. (Can be made the night before.)
Cut cucumbers in half or quarters. Toss with flavored salt in a large bowl then place in a colander set over the bowl and drain 15-20 minutes. Shake excess liquid from cucumbers. Skewer cucumber halves if desired.
Place in freezer on lined baking sheet to chill for at least 15-20 minutes until well chilled. Serve immediately.
Recommended Products
As an Amazon Associate and member of other affiliate programs, I earn from qualifying purchases.
Nutrition Information:
Yield:
6
Serving Size:
1
Amount Per Serving:
Calories:

32
Total Fat:

0g
Saturated Fat:

0g
Trans Fat:

0g
Unsaturated Fat:

0g
Cholesterol:

0mg
Sodium:

6mg
Carbohydrates:

8g
Fiber:

2g
Sugar:

3g
Protein:

1g
Nutritional information for recipes contained on this website, such as calories, fat, carbs, etc. are only estimates and are not guaranteed to be accurate.
(Disclosure: This post contains affiliate links. Find out what that means for you here.)
Sylvie Shirazi is the recipe developer and food photographer behind Gourmande in the Kitchen. For the last 10 years she's been making eating more healthfully easy and accessible with gluten-free, grain-free, paleo and vegan recipes that are free from processed ingredients.