Apples are poached in a cinnamon spiced syrup infused with fresh cranberries in this easy but impressive dessert.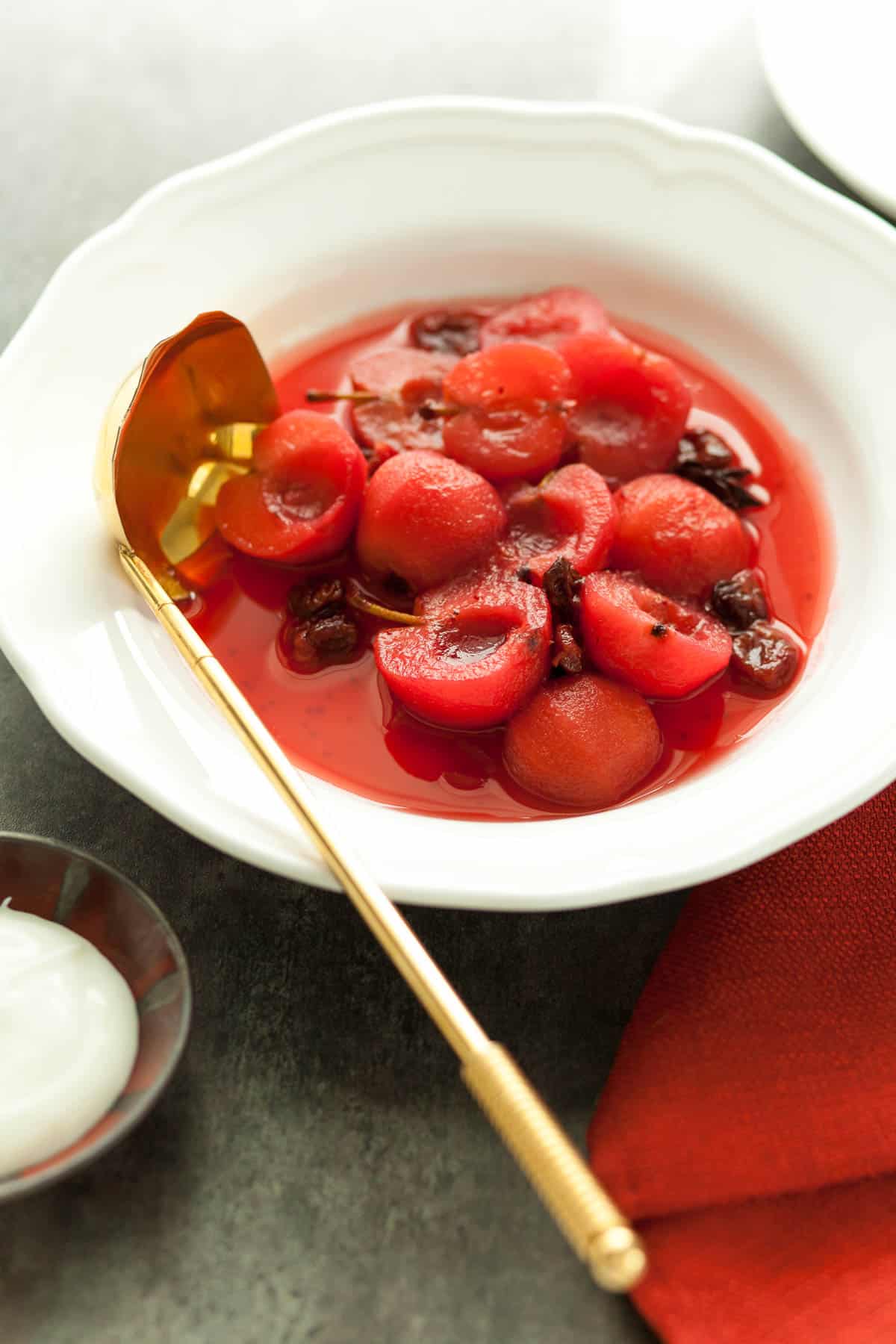 These poached apples are just the thing for a simple family supper or a holiday get-together when you're short on time. Cooked fruit are one of the simplest of sweets but also the most comforting.
Sweet, spicy and just a little bit tart, it's also the kind of recipe that's just at home for breakfast as it is for dessert, and the best part is you can make them ahead of time since they only get better as they sit. An overnight rest in the fridge gives the flavors a chance to mingle and infuse the apples even further.
How to make poached apples:
Poaching apples is easier than you think. You just combine your spices, with fresh cranberries and water in a saucepan and set it on the stove to heat. The tartness of the cranberries helps to balance the sweetness of the apples and creates a pretty pink syrup.
While you're waiting for everything to warm up is the perfect time to prepare the apples for their bath. The apples are peeled, halved and cored then placed in the poaching liquid, covered and set aside to gently simmer and infuse.
Once the apples are tender they are removed from the poaching liquid which is then further simmered until it's syrupy. You can serve the poached apples warm or chill them first in the fridge before serving.
The resulting poached apples are silky and gently spiced, while the cranberry syrup is spicy and lightly sweet. The apples take on a rosy hue and translucent quality as they sit in the fridge with the dried cherries that plump and become soft and juicy.
The aroma that fills the kitchen as they poach is a nice little bonus. There's nothing quite as comforting as the sweet smell of spices wafting through the air during the winter months and the cozy scent begins to envelop you as soon after you set everything to a simmer.
How to serve:
I like to serve the apples covered in their syrup (add a little cream on the side to dress them up if you'd like) or on top of yogurt if I'm having them for breakfast.
More apple recipes: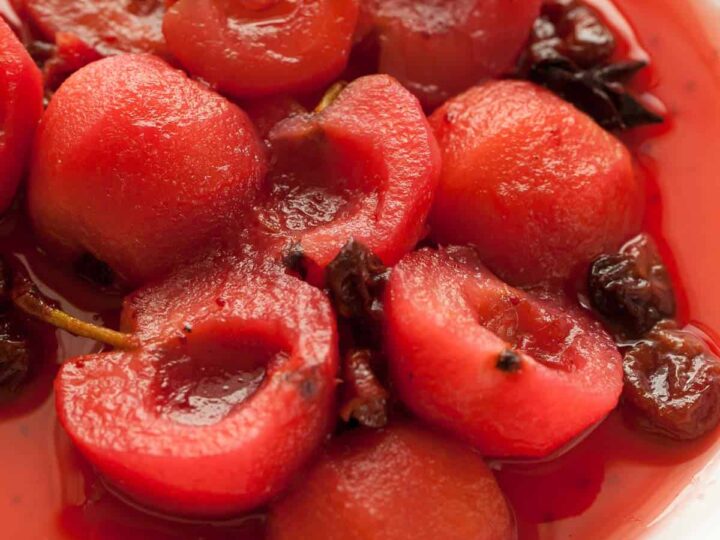 Yield:

4 Servings
Cinnamon Poached Apples
Apples are poached in a cinnamon spiced syrup infused with fresh cranberries in this easy but impressive dessert.
Ingredients
2 cups/480g filtered water
2 cinnamon sticks 
½ vanilla bean, split and seeds scraped
3 whole star anise 
¼ cup/60ml honey or maple syrup for a vegan version (NOTE: If you use maple syrup your apples will not be as brightly colored)
3oz/ 84g fresh cranberries, washed and sorted
8 to 10 (about ½ lb) small crimson gold apples, peeled, cored, and halved
¼ cup/28g dried unsweetened cherries 
Instructions
Bring water, cinnamon, vanilla bean and seeds, star anise, sweetener of choice and cranberries to a boil. Reduce heat and simmer for 15 to 20 minutes (you want the cranberries to pop) while you prep the apples.
Add apples, place a piece of parchment on top to submerge the apples; cover and simmer until just tender (about 5 minutes).
Remove poached apples with a strainer and set aside.
Bring the cranberry spice liquid back to a low boil and reduce in volume for about 5 minutes (the syrup will continue to thicken as it cools).
Remove from heat and pour through a fine mesh strainer over the apples pressing on the solids to remove all the liquid. Discard the spices and cooked cranberries. Add the dried cherries to the cranberry, apple mixture and cool, cover and refrigerate overnight.
To serve, spoon the apples and fruit into bowls and drizzle the syrup around them.
Notes
Gluten-Free, Grain-Free, Vegan, Paleo
Recommended Products
As an Amazon Associate and member of other affiliate programs, I earn from qualifying purchases.
Nutrition Information:
Yield:
4
Serving Size:
1
Amount Per Serving:
Calories:

160
Total Fat:

0g
Saturated Fat:

0g
Trans Fat:

0g
Unsaturated Fat:

0g
Cholesterol:

0mg
Sodium:

19mg
Carbohydrates:

42g
Fiber:

2g
Sugar:

33g
Protein:

0g
Nutritional information for recipes contained on this website, such as calories, fat, carbs, etc. are only estimates and are not guaranteed to be accurate.
(Disclosure: This post may contain affiliate links. Find out what that means for you
here
.)
Sylvie Shirazi is the recipe developer and food photographer behind Gourmande in the Kitchen. For the last 10 years she's been making eating more healthfully easy and accessible with gluten-free, grain-free, paleo and vegan recipes that are free from processed ingredients.