This fresh herb filled garlic aïoli is the perfect companion to a platter of seasonal vegetables for your next brunch.
I'm seeing the start of spring everywhere; sunshine, daffodils and asparagus are just a few of the telltale signs.  There are shades of green and pink popping up and it's just the beginning…
Young spring vegetables are so fresh and tender right now they hardly need a thing to accompany them; well, except perhaps for a dab of green herb aïoli.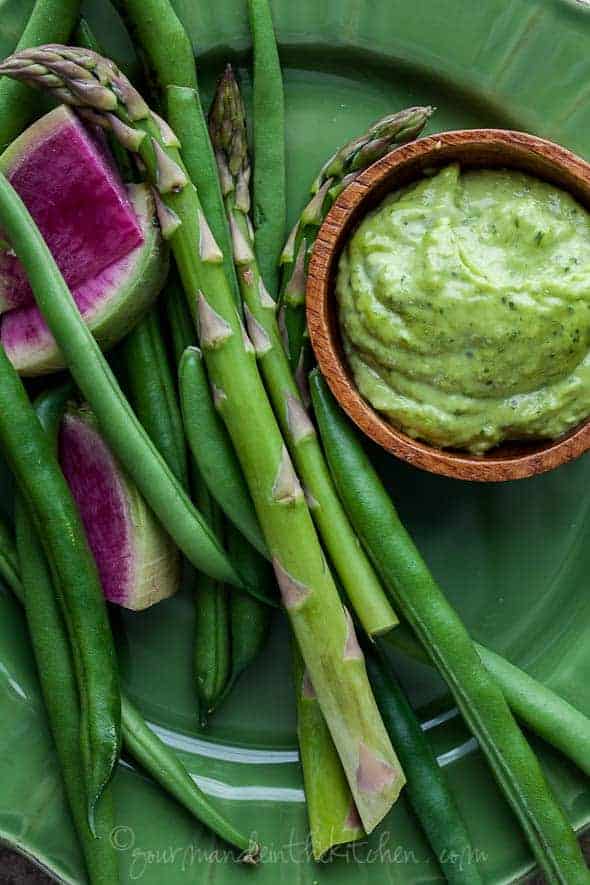 Light, bright and very spring-like aïoli is the perfect counterpart to a platter of seasonal vegetables like asparagus, radishes and carrots. The versatile Provencal sauce is a nice starting place for a casual meal with friends complete with glasses of crisp rosé wine.  Think of it as your secret to easy spring and summer entertaining.
Also known as the "butter of Provence" aïoli is a rich and creamy sauce made from garlic and olive oil emulsified with egg yolks that just begs to be paired with the best that spring and summer produce has to offer.
In fact a feast called "le grand aïoli" often composed of steamed fish and vegetables is a traditional choice for celebratory meals in the south of France.  It's my favorite kind of meal, the kind that's served family style, that requires using your hands and encourages sharing.
I like to serve the bold sauce on a large platter surrounded with an array of vegetables and hard boiled eggs instead of fish for a brunch or lunch accompanied with a few bottles of rosé within close reach.  All that's required is a little bit of prep and some hungry guests!
Fresh Herb Aïoli with Spring Vegetables Recipe | Le Grand Aïoli
---
Known as the "butter of Provence" aioli is a rich and creamy sauce that's perfect served with a variety of vegetables.
Ingredients
For the Aïoli:

3-4 garlic cloves (split the garlic lengthwise, if it's started to sprout, remove the green before using since it will give a bitter taste to the aïoli.)
½ tsp fine sea salt
¼ cup, fresh herbs such as chives, tarragon and parsley, finely chopped
2 large egg yolks, at room temperature (if you are concerned about using raw egg yolks you can pasteurize your eggs in the shell before using them.)
Juice of half a small lemon
1 cup extra-virgin olive oil (choose a mild tasting one so the taste doesn't overwhelm the sauce)

For the spread:

6 hard boiled eggs, cut in half
12 oz. green beans, lightly steamed or blanched
1 lb.young carrots, peeled or well scrubbed
12 oz. asparagus, lightly steamed or blanched
1 or 2 bunches mixed radishes, greens and roots trimmed
1 cup olives (mixture of green and black)
Instructions
Finely chop garlic using a mortar and pestle or on a chopping board. Pound garlic with the salt until a paste forms if using a mortar and pestle or with the back of your knife if using a chopping board.
Add garlic salt paste to the bowl of a food processor along with the fresh herbs and pulse until finely chopped and incorporated.
Add the egg yolks, lemon juice and mustard powder and pulse again until incorporated.
Turn processor to on position and drizzle oil in slowly until a thick, shiny aioli is achieved. Aioli can be prepared a day ahead; store in refrigerator.
Serve with prepared vegetables and hard boiled eggs (see below for how to make hard boiled eggs).

To cook the eggs (recipe courtesy of McCormick):

Gently place eggs in single layer in medium saucepan.
Add enough cold water to cover eggs with one inch of water.
Bring just to boil on medium-high heat. Remove from heat, cover and let stand about 15 minutes for large eggs.
After 15 minutes,pour off the hot water and rapidly cool eggs by running them under cold water (or place in ice water) until completely cooled.
Refrigerate and use within a week.
Notes
Gluten-Free, Grain-Free, Paleo, Vegetarian
7.8.1.2
77
https://gourmandeinthekitchen.com/herb-aioli-with-vegetables-le-grand-aioli/
gourmandeinthekitchen.com
I created this recipe as part of my partnership with the people at McCormick who are celebrating spring entertaining by showcasing one of the star ingredients of the season, the egg, along with their peppery mustard powder.
See here for another spring brunch recipe idea from McCormicks featuring eggs and for more ideas on how to create a memorable springtime meals, visit Facebook.com/McCormickSpice and Pinterest.com/McCormickSpices.