Quickly blanched asparagus spears top a pile of ginger scallion doused cucumber noodles and are finished with a sprinkle of toasted sesame seeds.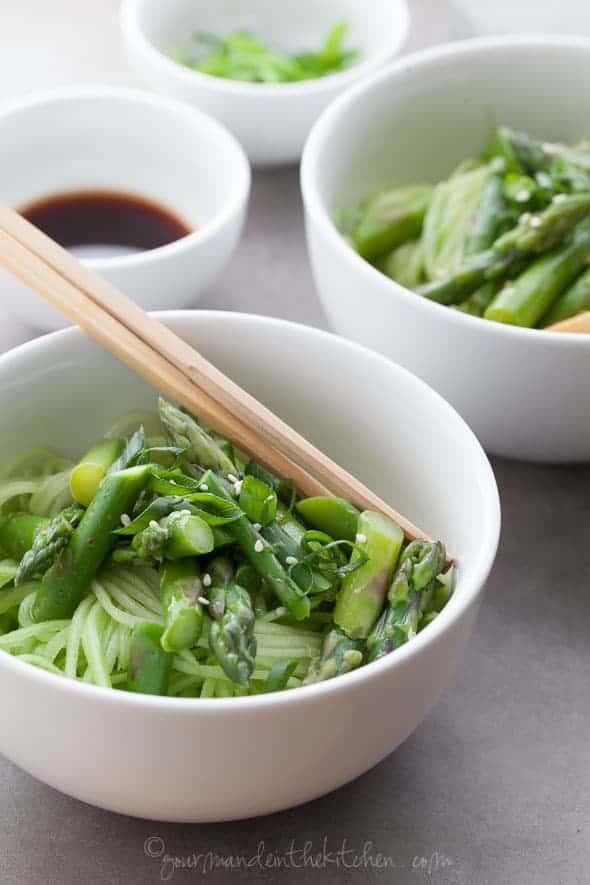 This is the time of year I most look forward to.  As we slowly inch our way closer to the long sunshine-filled days of summer, spring paves the way with plenty of fresh produce to revive us from our winter slumber.
The arrival of the first bunches of asparagus always puts me in a good mood; and I enjoy them while I can shaved thinly in salads, quickly braised with other spring vegetables, quickly pickled or to swipe up herb filled aiolis.
Lately I've been serving them tossed with slippery, slurp-worthy cucumber noodles in a ginger, scallion sesame sauce.  The crisp-tender texture of quickly blanched asparagus spears are the perfect companion to the silky strands of noodles, each bite infused with the gentle heat of ginger and the freshness of spring green onions.
If you haven't made noodles out of vegetables yet I suggest you invest in a small julienne peeler or spiralizer and try your hand at it; I guarantee you'll quickly be part of the vegetable noodle fan club.  The possibilities are endless depending on what season you're in, and you end up with a plateful of ribbony strands that you can twist and turn around your fork (or chopsticks) like noodles.
Here I've used cucumbers to create skinny soba-like noodles that are slicked with a flavorful Asian sauce made from finely chopped scallions, fresh grated ginger, a splash of sesame oil and a pinch of red pepper.  The sauce whisks up quickly while you blanch your asparagus spears in boiling salted water until tender but still crisp and bright green.  Meanwhile you create your "noodle" base and the rest is just a matter of assembly.
What you end up with is a bowl piled high with cool slippery noodles punctuated with tender bites of asparagus and a palmful of toasted sesame seeds.
Have you tried making vegetables into noodles?
Cucumber Noodles with Asparagus and Ginger Scallion Sesame Sauce
---
Ingredients
2 to 3 small scallions (green onions), thinly sliced
One 2 to 3 inch piece of fresh ginger, peeled and grated on a microplane or fine zester
1 teaspoon/5ml toasted sesame oil
2 Tablespoons/30ml olive oil (chose one with a fairly light and neutral flavor)
1 1/2 Tablespoons/23ml coconut aminos or gluten-free tamari
1 /8th teaspoon red pepper flakes , or more to taste
Pinch of sea salt, to taste
1 bunch asparagus, ends trimmed and sliced on the diagonal into 2 inch pieces
2 English hothouse cucumbers, peeled
2 Tablespoons/30g toasted sesame seeds to garnish (optional)
Instructions
In a large bowl whisk together the scallions, ginger, toasted sesame oil , olive oil, coconut aminos , red pepper flakes .
Taste and add a pinch of salt if needed. Set aside while you make the asparagus and cucumber noodles. Bring a pot of salted water to a boil. Blanch the asparagus spears until crisp tender (about 2 minutes) then drain and shock in a bowl of ice water to stop the cooking and set color.Using a julienne peeler or spiralizer create long noodles from the peeled cucumbers. (If using a julienne peeler, run it lengthwise until you reach the core then turn a ¼ turn and repeat all the way around. Toss the cucumber noodles with the ginger scallion sauce, add the cooled blanched asparagus and toss gently again to combine. Sprinkle with toasted sesame seeds and serve.
Notes
Gluten-Free, Grain-Free, Vegetarian, Vegan, Paleo (for a Raw version, skip blanching the asparagus and shave it thinly with a peeler and use un-toasted sesame seeds)
7.8.1.2
125
https://gourmandeinthekitchen.com/cucumber-noodles-asparagus-ginger-scallion-sesame-sauce/
gourmandeinthekitchen.com
(Disclosure: This post contains affiliate links. Find out what that means for you here.)
SHOP THE POST