A recipe for grain-free, fair-trade chocolate chip cookies and an interview with the author of One Simple Change: Surprisingly Easy Ways to Transform Your Life by Winnie Abramson.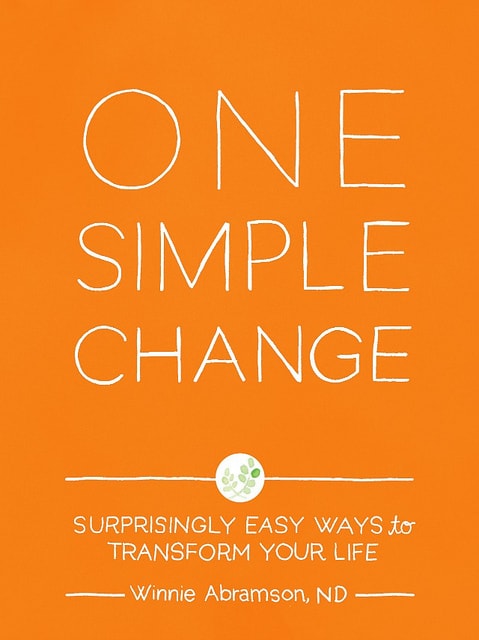 If you've ever wanted to make meaningful changes in your diet and lifestyle towards better health then you've probably also experienced the frustration of feeling overwhelmed, not knowing where to start, and finding it difficult to maintain momentum in the long run.
That's what drew me to One Simple Change by Winnie Abramson; comprised of 50 short chapters, each one addresses a small but easily actionable step you can implement towards overall health and wellness. It's not a diet book, or exercise plan, or supplement regime; rather, it's a thoughtful compilation of small but important actions you can take right away towards lasting change. Start slowly and tackle one at a time moving forward at your own pace or pick a few at once, it's up to you.
Stop Dieting, Eat Real Food, Get a Little Sunshine, Eat Healthy Fats and Oils, Be Choosy About Chocolate, Sip Superior Smoothies and Connect with Nature, are just a few examples of the straightforward and manageable strategies the book offers on leading a healthier and happier life.
Winnie was kind enough to take the time to stop by to answer some questions on her book and to share a recipe for grain-free, fair-trade chocolate chip cookies as well as to offer you all a chance to win a copy!
1. What motivated you to write this book?
When I was younger (in my teens and early twenties), I dealt with disordered eating and over exercising. I ended up miserable and had a host of health problems as a result. Now I live a life that's balanced and full of joy (and at 43 years old, I have never been healthier or happier): I wanted to share how I got to where I am today, and that's why I wrote this book.
2. How did you choose the 50 changes you included in the book?
I thought long and hard about the changes I have made in my own life that have impacted my health and happiness the most. I compiled them into a list: this was how I chose the changes I wanted to include in the book.
3. Where should someone start if they are looking to make lasting change in their health and lifestyle?
I believe most people need to start small. Small changes can really add up! And when you take things slow and change only one thing at a time, the changes are more likely to stick.
4. Which of the changes in your book would you say have most personally impacted your own life?
The decision to stop dieting (and to eat in order to nourish myself instead of to lose weight) was huge for me and absolutely changed my life for the better. The ways in which I manage stress (which I discuss in the book) have also changed my life.
5. List 3 changes from the book you think everyone should consider adopting right away and why.
I believe we can all benefit from:
1. eating a well-balanced diet comprised of lots of whole foods
2. making sure we sleep well each and every night
3. moving our bodies more
Paying attention to just these three things can really make a huge difference in your health and well being.
Yield:

about 20 2-inch cookies
Grain-Free Fair-Trade Chocolate Chip Cookie Recipe from One Simple Change by Winnie Abramson
A nutrient-dense version of traditional chocolate chip cookies that contain protein, healthy fats and unrefined sugar.
Ingredients
½ cup/30 g unsweetened shredded coconut
1½ cups/120 g finely ground blanched almond flour
¼ cup/30 g coconut flour
½ teaspoon baking soda
½ teaspoon fine sea salt
½ cup/115 g butter, preferably from pastured cows, at room temperature
1 cup/150 g coconut sugar, or 1 cup/200 g granulated sugar
1 farm-fresh, free-range egg
1 teaspoon pure vanilla extract
1 cup/170 g fair-trade dark chocolate chips
Instructions
Preheat the oven to 325°F/165°C. Line two baking sheets with parchment paper or silicone baking mats.
Spread out the coconut on one of the baking sheets and toast in the oven until light brown and fragrant, about 5 minutes, but start watching after 4 minutes so it doesn't burn. Set aside to cool for several minutes. Increase the oven temperature to 350°F/180°C.
Using a wire whisk or a fork, mix together the toasted coconut, almond flour, coconut flour, baking soda, and salt in a medium bowl.
Using a stand mixer fitted with a paddle attachment or a handheld electric mixer, cream the butter and sugar on low speed until smooth, about 3 minutes. Scrape down the sides of the bowl and the paddle. Add the egg and vanilla and mix until blended.
Add the almond flour mixture and beat until just incorporated. Briefly beat in the chocolate chips. Cover the dough and refrigerate for at least 30 minutes (and up to 2 days) before baking.
Spoon rounded teaspoons of the dough onto the baking sheets approximately 2 in/5 cm apart.
Bake for 15 to 18 minutes, or until the cookies are starting to brown around the edges but still look slightly underdone in the center (they'll continue to cook a bit after you take them out of the oven).
Remove the cookies from the oven. Allow them to rest for 1 or 2 minutes on the baking sheets, and then, using a spatula, carefully transfer to a cooling rack. (If you transfer them too soon, they're likely to crumble.) Wait a few more minutes before serving or until completely cooled before storing in an airtight container. The cookies should keep for 4 to 5 days.
Notes
Gluten-Free, Grain-Free, Vegetarian, Paleo-Friendly
Recipe from "One Simple Change: Surprisingly Easy Ways to Transform Your Life" by Winnie Abramson, ND.
Nutrition Information:
Yield:
20
Serving Size:
1
Amount Per Serving:
Calories:

141
Total Fat:

8g
Saturated Fat:

4g
Trans Fat:

0g
Unsaturated Fat:

3g
Cholesterol:

15mg
Sodium:

86mg
Carbohydrates:

17g
Fiber:

1g
Sugar:

15g
Protein:

2g
Nutritional information for recipes contained on this website, such as calories, fat, carbs, etc. are only estimates and are not guaranteed to be accurate.
You can connect with Winnie on facebook , twitter and her blog Healthy Green Kitchen.
Sylvie Shirazi is the recipe developer and food photographer behind Gourmande in the Kitchen. For the last 10 years she's been making eating more healthfully easy and accessible with gluten-free, grain-free, paleo and vegan recipes that are free from processed ingredients.