Before the age of 18 he lost 100 pounds, taught himself to cook, started a successful food blog and if that wasn't impressive enough, just published his first book.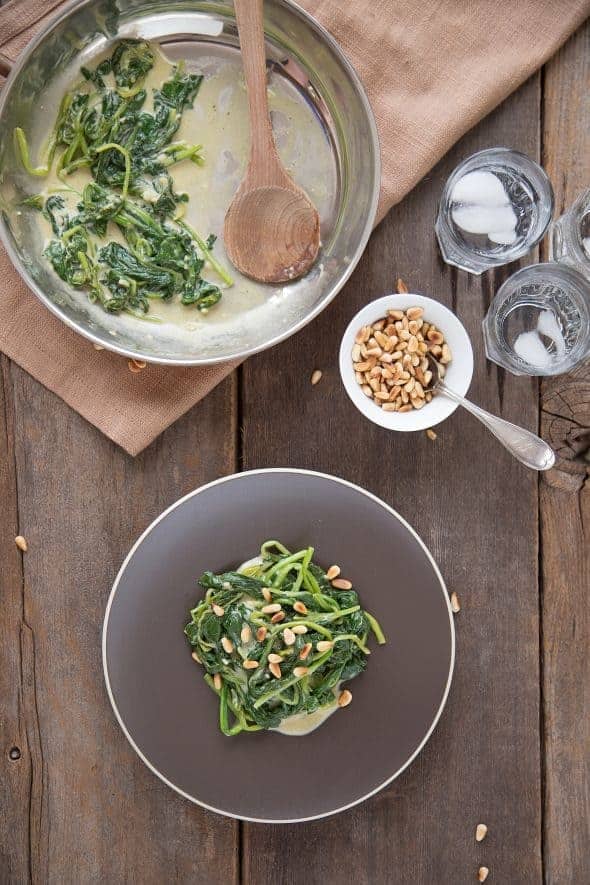 His name is Joshua Weissman and he's the writer, recipe developer and photographer behind the blog Slim Palate and his newly released first cookbook entitled The Slim Palate Paleo Cookbook.
The Slim Palate Paleo Cookbook (like his blog) perfectly captures Joshua's passion for real food and home cooking which makes it such a pleasure to read and cook through and the recipes are beautifully photographed by Joshua himself as well. With a genuine enthusiasm for real food and a fierce determination to make lasting changes he's taken his health into his own hands and hopes to inspire others to do so as well.
His book includes a variety of simple but elegant real food recipes anyone can dive into and enjoy cooking from whether you are a novice or more experienced home cook regardless of whether you happen to follow a Paleo diet or not.
Joshua was kind enough to stop by to answer some questions about what led him to adopt a real food lifestyle and to talk about his book as well as to share a recipe for Garlic Dijon Spinach With Pine Nuts from his book and to offer you all a chance to win a copy.
1. In the beginning of the book you get personal about the challenges you faced because of your weight.  Can you tell us a little bit about the struggles that led you to adopt your current diet and what that journey has been like for you?
Well, originally there was no real "problem" until kids started making fun of me. At first it was easy to dismiss because it would just be a small derogatory comment every once in a while but then it became very prevalent and obvious. It was incredibly vicious and was not limited to just verbal harassment but also included physical harassment as well. I would have horrible comments (which I will not repeat here because they were a little too dark to share in my opinion) spouted at me all the while kids would poke, prod, grab, pinch, etc. different parts of my body. It was humiliating and debilitating to my well being. I went home crying every single day and was legitimately afraid to go to school on a daily basis. It tore me apart as a child and led me into a very depressive state for a very long time and I will forever be scarred by it, but at the same rate it taught me a very valuable lesson that I will never ever forget. Granted I'm not saying that their torment was warranted, I'm just saying that I learned a lesson from going through that. 
2. What was the hardest part about making the switch to a real food/paleo lifestyle?
I think really the most difficult thing for me to give up and really for anyone who starts a real food lifestyle is giving up sugar. Refined sugar especially. I didn't know what foods were filling at first and the elimination of sugar was a very difficult one to let go of. Soda and candy clearly were the hardest to give up. When you eat a lot of it for  so long it really becomes much like a drug, and giving it up for me may have been similar to that of going to rehab as silly as that may sound. 
3. How did you come to be a food blogger and cookbook author? Have you always enjoyed cooking?
I've always had a passion for cooking. Ever since I was little, you could find me in the kitchen working with my mom to make dinner, or help pul together a holiday meal. It was only until I began disconnecting with my food when I stopped cooking for so long. Once I reconnected with my food and started eating a whole foods way of eating I clearly had to get back in the kitchen. As soon as I did that all of that passion came flooding back to me and I started writing my recipes down, creating, tasting, smelling, just genuinely enjoying food again with a new perspective. After I lost all of the weight I chose to start a food blog to share some of those real food recipes that I had created and hopefully inspire others with my story. I had no idea that it would come to writing a cookbook but eventually my blog began to gain some momentum and I got contacted by two different publishing houses that wanted me to write a cookbook and the rest is history!
4. What kinds of recipes can readers expect to find in your cookbook?
Recipes of all kinds can be found in my cookbook. Ethnic, classics, traditional, you name it. I also made sure there was a good mix of easy to make dishes for those with little to no kitchen experience and then some more intermediate dishes for those who have some kitchen experience. I'm actually fairly happy with the responses on the Amazon page reviews where people have been saying that everything that they have tried has not only turned out wonderful but are simple and easy for most people to prepare! Even several of my high school friends started cooking for the very first time and have been tackling some of the recipes that I thought would be more difficult with great success! 
5. Name three personal favorite recipes from the book you think everyone should try first.
This is a hard one for me because I have a lot of favorite recipes in my cookbook. I highly recommend the Pan Roasted Spiced Pork Chops with Lemon and Sage, shepherds pie, and the Texas chili. I would also toss in the broccoli soup in that list even though that makes it 4 because the broccoli soup only consists of really only 3 ingredients and it's surprisingly rich and flavorful. 
6. List your 5 must-have real food ingredients.
 Fish sauce, grass-fed butter (or pastured lard, which is one of my personal favorites), eggs, grass-fed/pastured meat, vegetables.
7. Do you have any tips for people wanting to transition to a real food/Paleo-style diet?
Stay the course and try to learn about your food and where it comes from. Go to a farmers market, meet a farmer and make friends with them. Seeing all of the families and great people working in unison to bring together a community through food is incredibly empowering and really quite a beautiful thing to observe. Start cooking again and make it a fun activity rather than a "chore". Good food cooked at home is one of the greatest expressions of love in my opinion and an important interaction for us to do. Experience and reconnect with your food and you may find that there is no reason to go back. Lastly, don't forget to indulge everyone once in a while, life is a long road and you can choose to make it a healthy and an enjoyable one. 
Yield:

3 Servings
Garlic Dijon Spinach With Pine Nuts from The Slim Palate Paleo Cookbook by Joshua Weissman
Tender spinach is cooked in a slightly sweet and tangy Dijon mustard sauce and topped with toasted pine nuts.
Ingredients
¼ cup pine nuts
2 Tablespoons butter or ghee
3 cloves garlic, minced
5 ounces spinach
2 Tablespoons Dijon Mustard
salt and pepper taste
Instructions
In a small pan over medium heat, toast the pine nuts for about 4 minutes or until lightly browned and fragrant, shaking the pan often to prevent burning. Pour onto a plate to cool.
Heat the butter or ghee in a medium sized pan over medium heat. Add the garlic and saute for about 30 seconds, then stir in the spinach. Cook for 3-4 minutes stirring occasionally until completely wilted, then stir in the mustard and season with salt and pepper.
Serve spinach garnished with toasted pine nuts.
Notes
Gluten-Free, Grain-Free, Vegan, Vegetarian, Paleo
Recipe re-printed with permission from The Slim Palate Paleo Cookbook by Joshua Weissman.
Nutrition Information:
Yield:
3
Serving Size:
1
Amount Per Serving:
Calories:

203
Total Fat:

20g
Saturated Fat:

8g
Trans Fat:

0g
Unsaturated Fat:

10g
Cholesterol:

31mg
Sodium:

463mg
Carbohydrates:

5g
Fiber:

2g
Sugar:

1g
Protein:

4g
Nutritional information for recipes contained on this website, such as calories, fat, carbs, etc. are only estimates and are not guaranteed to be accurate.
You can connect with Joshua on Facebook, Twitter and his blog.
GIVEAWAY
Joshua has generously offered to send one lucky reader a copy of The Slim Palate Paleo Cookbook.  Enter below for a chance to win a copy.
Sylvie Shirazi is the recipe developer and food photographer behind Gourmande in the Kitchen. For the last 10 years she's been making eating more healthfully easy and accessible with gluten-free, grain-free, paleo and vegan recipes that are free from processed ingredients.