How to entertain with ease and a casual summer dinner party filled with Mediterranean flavors.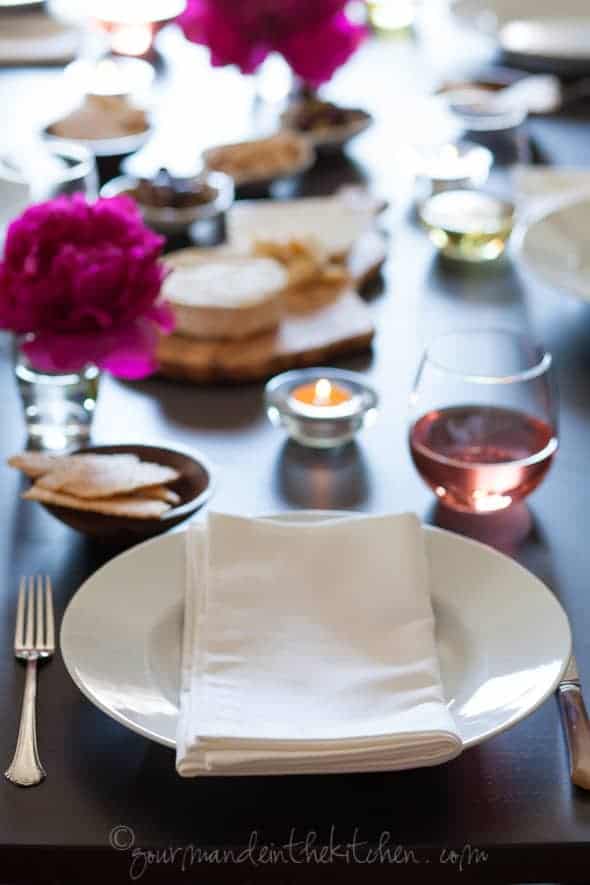 What does the concept of entertaining at home mean to you?
Does it bring to mind fancy table settings, fine china, polished silverware and perfect decorations? Do you worry about how clean your house is, how many courses to serve and just the right wine to serve?
I'd venture to guess that most of us do and it's this idealized notion of a perfect dinner party, the perfectly coordinated production we envision in our heads that often prevented me from enjoying my own parties and made me a reluctant hostess.
But I've learned over the years that what makes a dinner party special has nothing to do with dishes and decorations and everything to do with how your guests feel in your home. When your guests feel genuinely welcomed the evening is sure to be special.
Offering true hospitality means inviting people into your home, and saying "this evening is better because you are here with us." Entertaining too often is equated with creating something extraordinary with the purpose of impressing. But truly it's about sharing who you are, laughing, talking, and having fun. Those are the evenings your guests will remember.
So when McCormick approached me about participating in their Longest Dinner Party Chain I thought it would be a wonderful opportunity to talk about some easy ways to feel comfortable with entertaining and share with you my casual summer dinner party filled with Mediterranean flavors.
Atmosphere:
Creating a relaxed atmosphere is the first step in easy entertaining. I kept things simple and scattered cut peonies in short glasses all round the dinner table and living room. Pretty and unfussy, they add a pop of color to the table and don't get in the way of conversation.
Get creative with your table setting and don't be afraid to use different plates and glasses if you don't have a full set; its okay to mix and match.
Don't forget the lighting. Instantly create a relaxed mood with an abundance of candles. I went heavy on inexpensive tea lights and dimmed the lights after the sun went down to create an inviting and laid back atmosphere
Good music is an easy way to make guests feel welcome. Keep it mellow and not too loud so that it doesn't prevent easy conversation. Create a playlist ahead of time and start the music before the guests arrive while you are preparing the meal to get you in a good mood before the party starts.
Include after dinner entertainment and play a couple rounds of games over coffee and dessert.
Menu:
Great dinner parties revolve around great food, of course, but great food doesn't have to mean time consuming preparation. Pick recipes that don't require a lot of fussing and can mostly be prepared ahead of time. Avoid dishes that require a lot of last minute cooking and take you away from your guests.
Conversations start in the kitchen and move to the dinner table so let your guests help out in the kitchen if they offer. Make dinner a collaborative effort and everyone feels instantly more relaxed.
I like to set out easy appetizers like rosemary and thyme olives, nuts and cheeses for guests to nibble on before sitting down to the meal.
For this party I chose to serve crisp white and rose wines to accompany the light Mediterranean-themed menu. I also like to infuse water with different flavors like mint and lemon for non-drinkers.
For the main course I opted for Rosemary Parmesan Flat-Bread topped with Arugula and Shaved Parmesan and served that with a side of Grilled Zucchini and Summer Squash with Yogurt Sauce. Parts of both the flat-bread and grilled veggies can be made ahead of time and served at room temperature. I like to serve my main course casual family-style so everyone can share and serve themselves.
For dessert I kept it fresh and easy by serving ripe Summer Fruit with Fromage Blanc and a simple Warm Spiced Honey Sauce.
In the end, they key to easy entertaining is figuring out what works for you and taking time to enjoy the process.
Recipes for Easy Entertaining:
If you'd like to win your own Ultimate Dinner Party Package worth over $1,000, McCormick is giving one away each week on their Facebook page through the end of July.
Disclaimer: McCormick Gourmet provided me with a dinner party kit, to facilitate creating this dinner party. All opinions are my own.
Sylvie Shirazi is the recipe developer and food photographer behind Gourmande in the Kitchen. For the last 10 years she's been making eating more healthfully easy and accessible with gluten-free, grain-free, paleo and vegan recipes that are free from processed ingredients.