A painless 3 day real food detox menu to get you back on track.
The New Year is right around the corner, which means a bit of a detox is in order.   It's time to hit the reset button and give our bodies a break from any holiday overindulgences.
Now to be clear, I'm not talking about anything crazy intense or overly restrictive, just a nudge in the right direction to get back on track. A real food detox means lots of fresh food that's easy on the digestion but filled with flavor and nutrients.  For an easy meal plan just pick a recipe from each category per day.  Or start slow and just pick one meal to overhaul for the day.
Breakfasts are smoothies, snacks fresh juices, lunch and dinner are soups, salads and vegetable noodles, and yes there's even dessert.  I've gathered enough recipe ideas for 3 days to get you started below.
JUICES
Quick, easy and filled with readily absorbable nutrition, this juice make a wonderful energizing drink in the morning or afternoon when you're looking for a pick me up that doesn't rely on caffeine.
This zippy juice with the power of carrots, beets, oranges, lemons, ginger and turmeric will put a little pep in your step.
Pea Shoot and Spinach Juice, Beet and Sweet Potato Juice, Carrot Kohlrabi Juice
These three colorful vegetable juices are an easy way to make juicing a habit this year.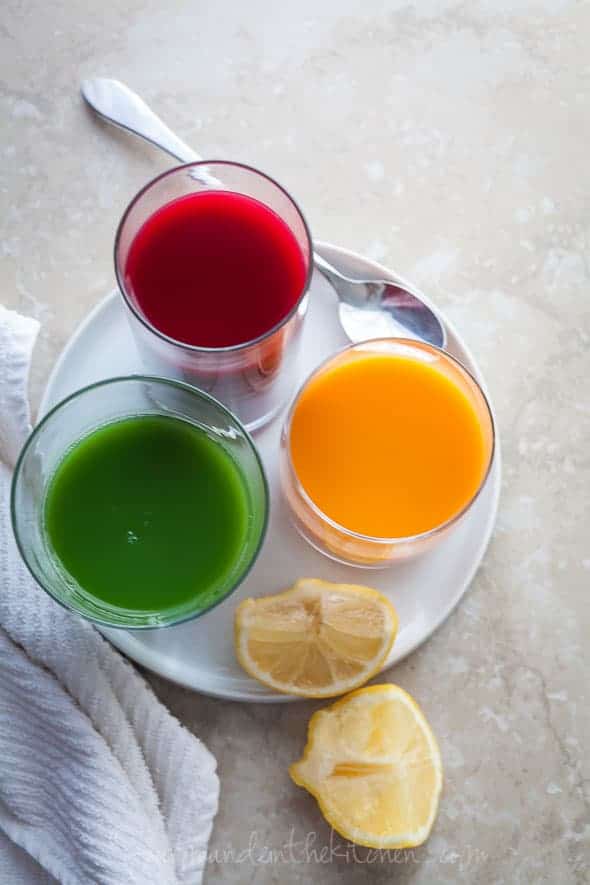 SMOOTHIES
Juicy, sweet mango, pineapple and orange offer a nice boost of vitamin C along with a hint of acidity.
Refreshing and loaded with leafy greens this smoothie features a trio of nutrient packed greens (kale, chard and parsley) paired with sweet pineapple.
This meal in a glass is bursting with berries, pineapple and greens.
SOUPS
Petite peas, baby spinach, broccoli and green beans all mingling together in velvety harmony with just a touch of garlic and chives lingering in the background.
I turn to this vegetable heavy broth when I'm feeling run down and want to sip on something warm and nourishing.  It's a good wintertime companion after a season of holiday excess and the seemingly unavoidable onslaught of runny noses and itchy throats everywhere you turn.
Quick Spicy Tomato Vegetable Soup
A robust, full flavored tomato soup filled with big chunks of vegetables that's a snap to make.
VEGETABLE NOODLES
Daikon Noodles with Cabbage Spinach Slaw
This noodle salad is all about the crisp and crunch of the shredded slaw, the cool slipperiness of the daikon noodles and the punch of heat from the sesame mustard dressing.
Cucumber Noodles with Ginger Scallion Sesame Sauce
Slippery, slurp-worthy cucumber noodles in a ginger, scallion sesame sauce.
Zucchini Noodles with Caper Olive Sauce
A wonderfully fresh and spicy vegetable "pasta" that's filled with the flavors of the Mediterranean.
SALADS
A light and refreshing grapefruit, tangerine, avocado and endive salad filled with vitamin C and healthy fats.
Kale Carrot Salad with Maple-Sesame Vinaigrette
This light and crunchy salad features a chiffonade of kale, cabbage and carrots tossed in an Asian inspired maple-sesame vinaigrette.
Warm Cauliflower Carrot Salad with Citrus Miso Dressing
A warm winter salad filled with tender roasted vegetables bathed in a bright, vibrant dressing.
Dessert
Raw cacao is what gives them their superfood status so there's no better excuse to get some chocolate into your diet!
Raspberry Rosewater Chia Puddings
Light, creamy and totally satisfying all at once, chia pudding makes an excellent dessert/snack that doesn't require any cooking.
All you need to make these all natural popsicles is some fresh fruit, lime juice and coconut water.
Here's to a happy and healthy New Year!